If you love adventure, wild camping and the breathless joy of a free-wheeling descent, bikepacking is for you. And you don't need to be fully kitted out with the latest and greatest gear to get started.
That said, a bit of know-how can make the journey much easier, so here's our basic beginner's guide to bikepacking.
What kind of bike do you need?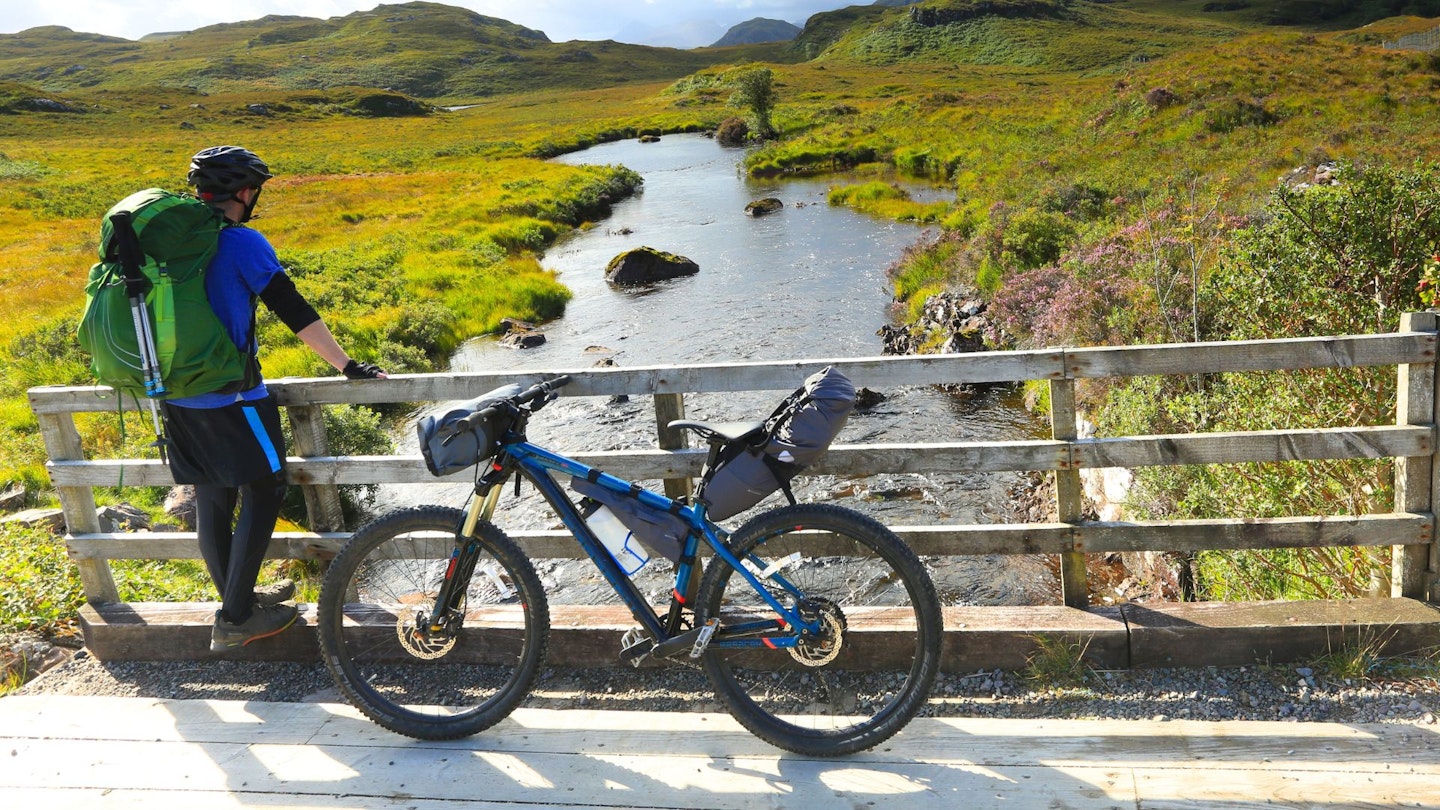 You don't necessarily need a new bike. A mountain bike, hybrid, gravel bike or tourer will do the job. Wider tyres will allow you to ride more comfortably over rough terrain and knobbly ones offer extra grip in mud.
Lightweight is also helpful, especially as you'll be loading it up with extra kit and may need to lift it over obstacles like trees or stiles. On the subject of loading (which we'll get to in detail below), you'll want space for bags on the frame, handlebars and under the saddle.
Ensure you've got a riding position that will be comfortable after several hours. You could consider a few extra tweaks like replacing the saddle.
Could you use an e-bike? Yes, an e-bike can be very useful and it's certainly not cheating, especially if it helps you negotiate steep or tricky terrain.
How to pack for bikepacking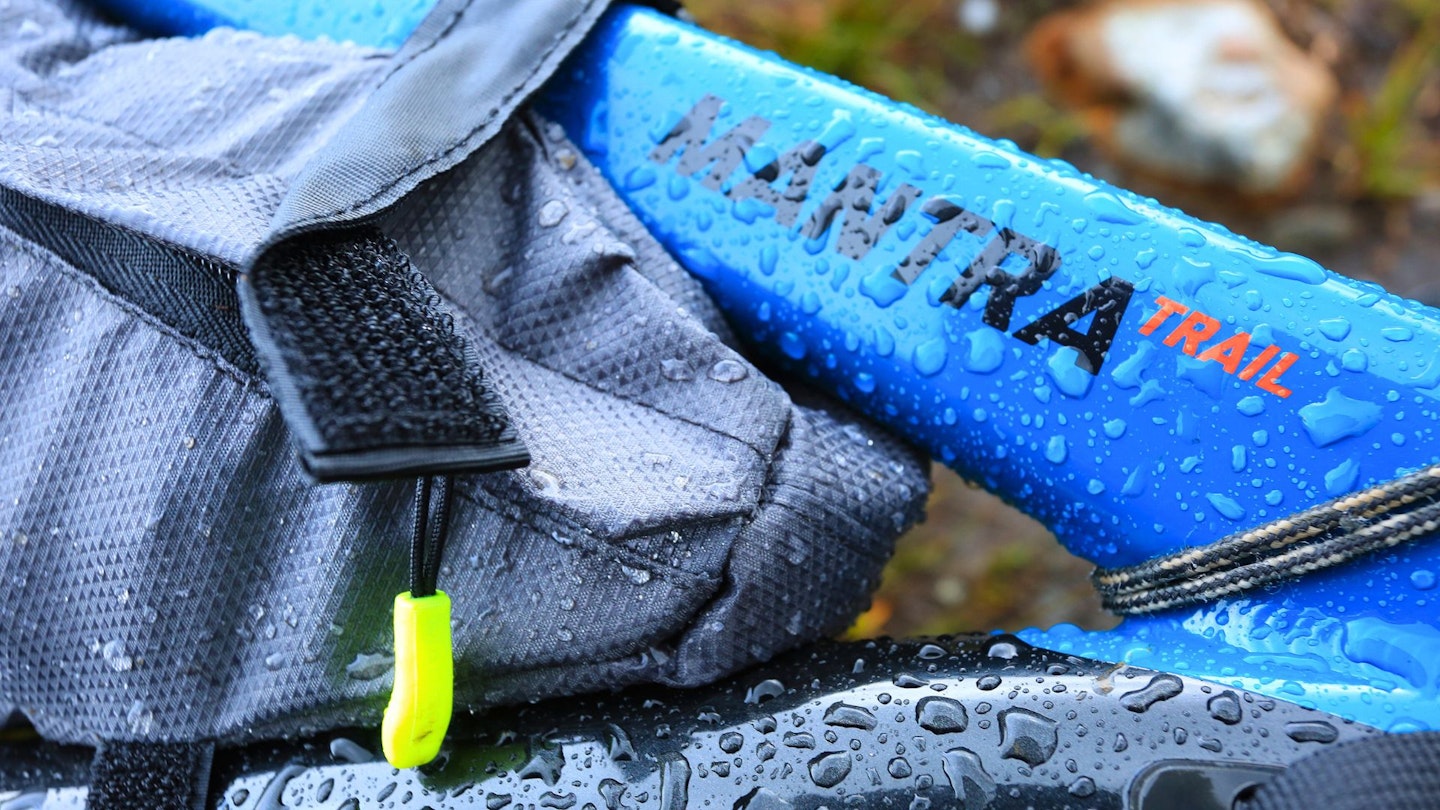 The same rules apply here as for regular wild camping – take as little as you need for a safe and comfortable trip. More weight, as ever, equals harder work.
As well as your standard wild camping kit, you'll also need bike tools and spare inner tubes, lights, lock, helmet and any specialist clothing like cycling gloves or padded cycling shorts.
When it comes to packing the bike, keep it cheap and simple to begin with. Strapping a couple of tough dry bags to your frame could be a good enough set-up and, if you like it, you can upgrade from there.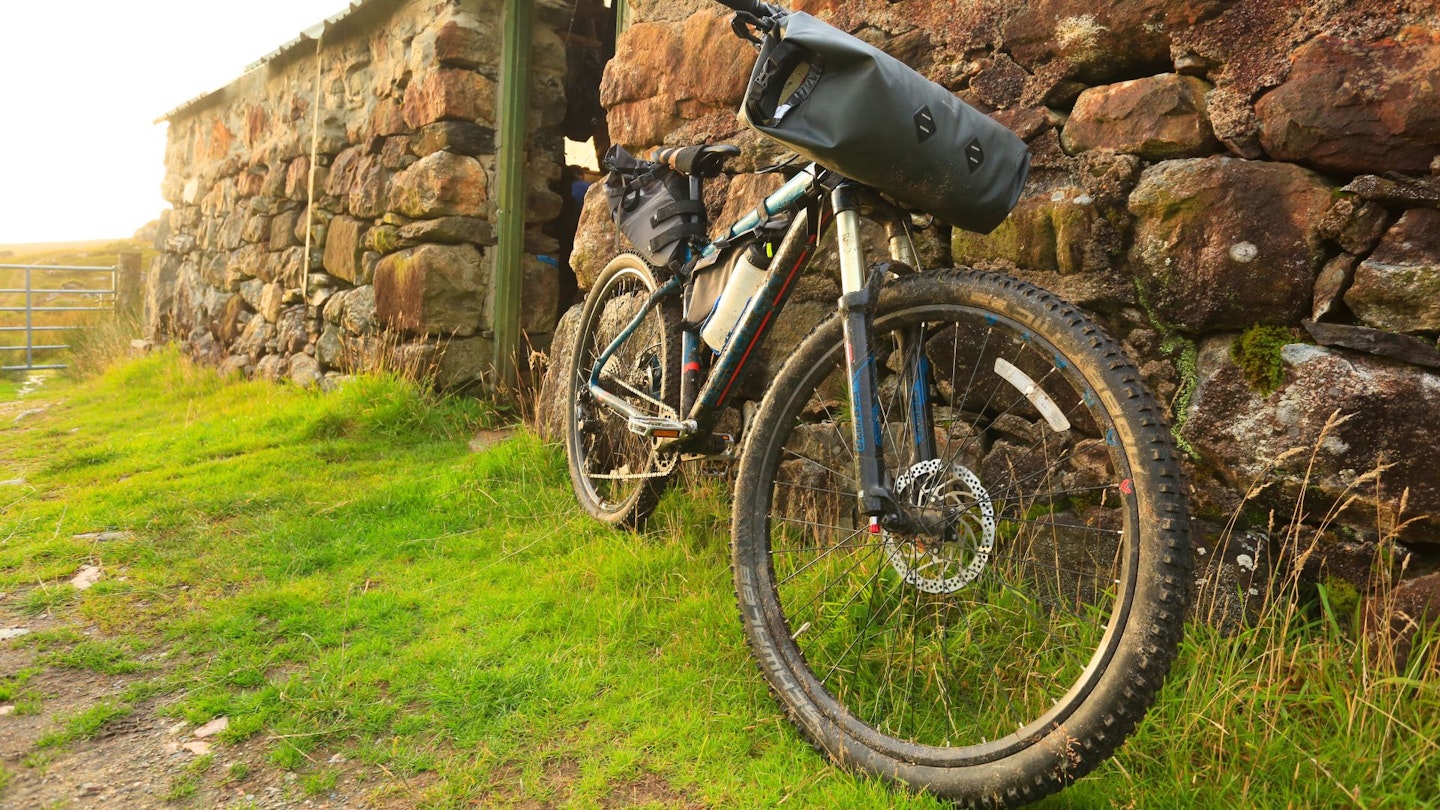 Panniers win for capacity but are heavy and bulky. Bags which strap onto the handlebars, under the saddle and into the frame are much more streamlined and spread weight more evenly across the bike.
When packing, think about weight distribution across the bike. Heavier things tend to be better in the frame bag because it keeps the centre of gravity low (spare inner tubes, food, gas, stove etc.). Lighter, compressible items (sleeping bag, sleeping mat, tent, clothing etc.) are best kept on the handlebars and behind the saddle.
The lighter, the better, within the limits of common sense. Take a few experimental rides to get it right before the main event.
Do you need any special skills?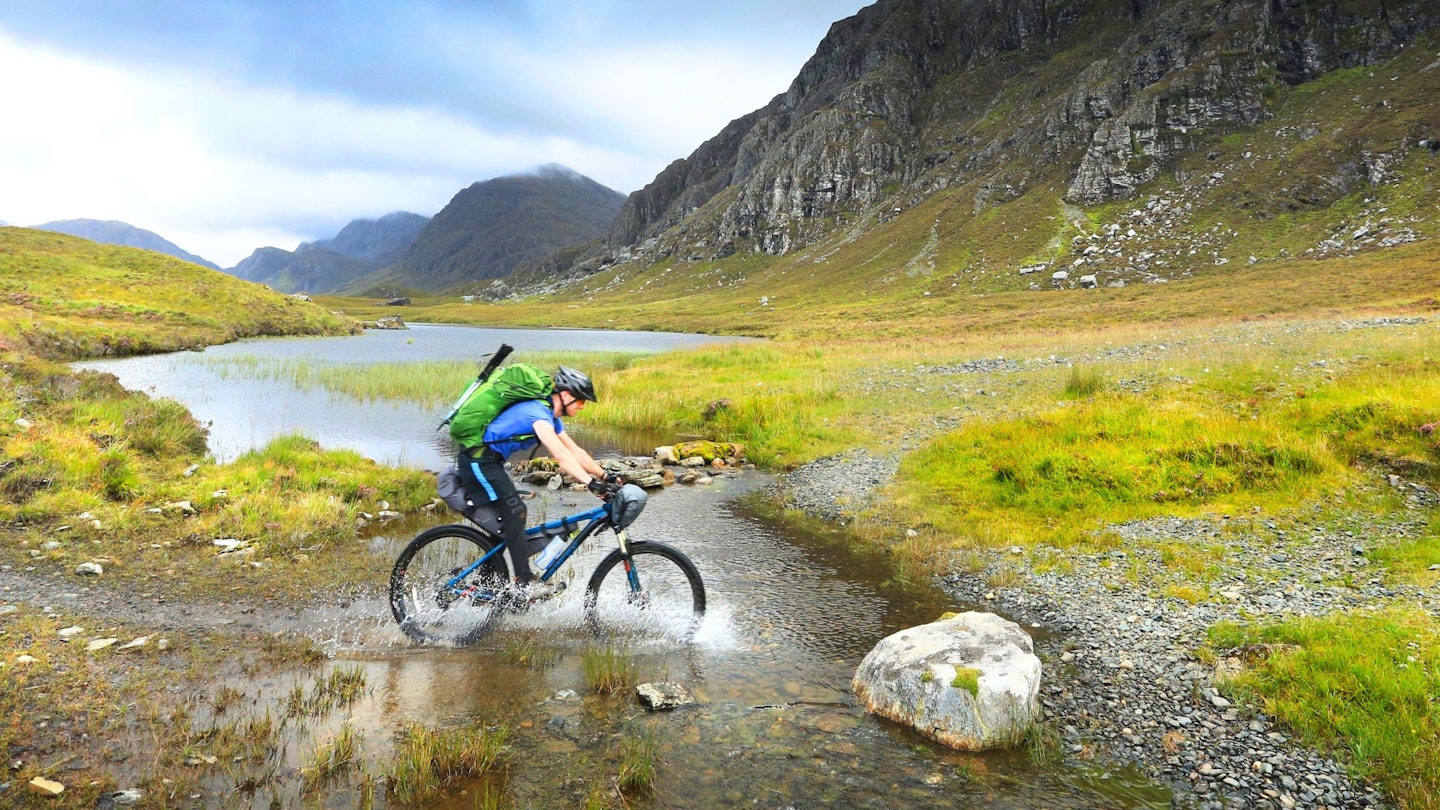 Like Liam Neeson in Taken? No, bikepacking is accessible to all, arguably more accessible than hiking for some because it allows them to get to wild and remote places they may struggle to get to on foot.
Although they aren't special skills, there are a couple of things you need to learn before you go bikepacking if you don't know them already.
One is to practice fixing a punctured tyre. Don't wait until you're on the hill, in rain, surrounded by ravenous midges, to find out it's a fiddly job.
Another is, if you're tackling a track that involves steep or rugged terrain, be prepared to dismount and hike your bike on occasion. If you're a bikepacking novice, get some easier, shorter routes under your belt first.
Where to go bikepacking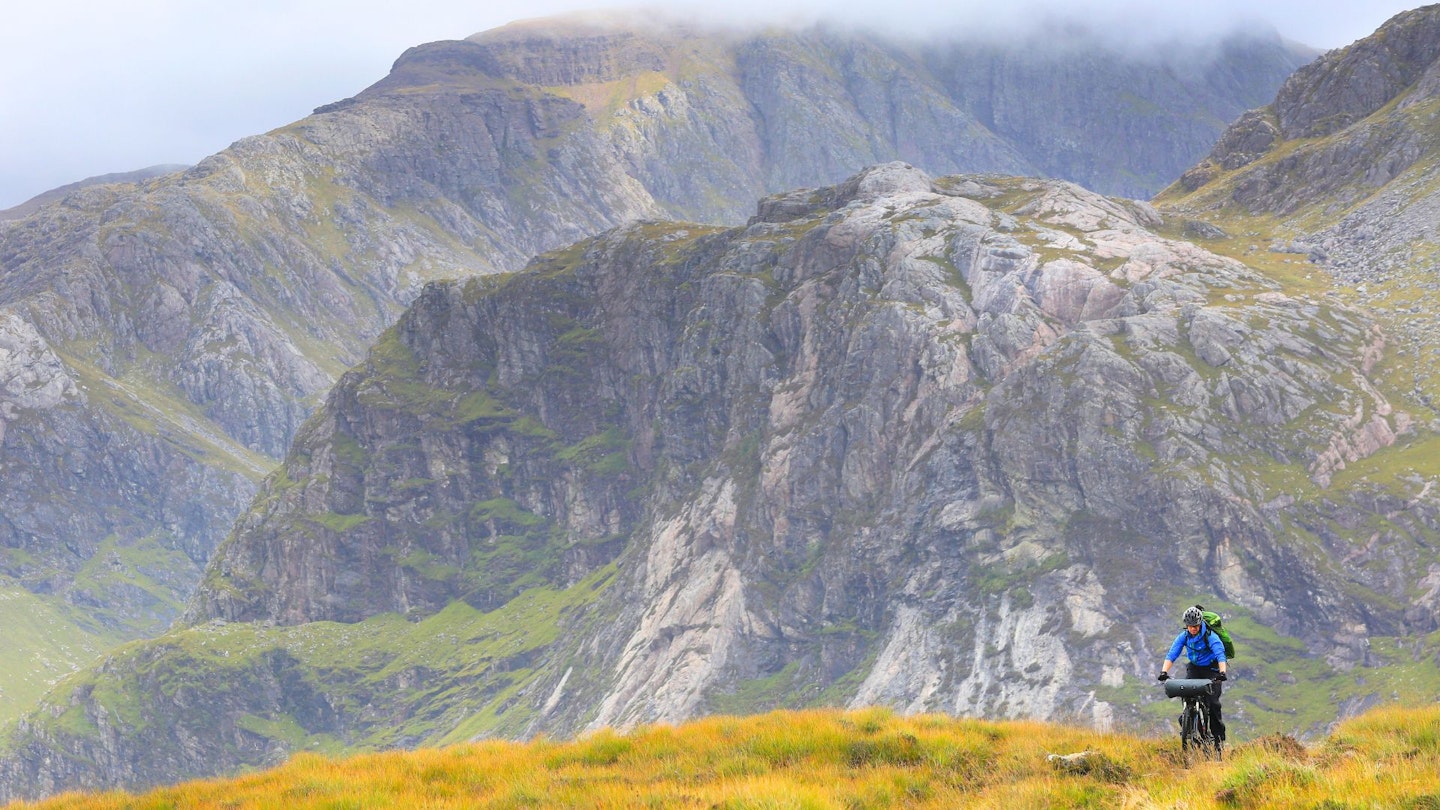 The options are almost limitless. Legally, in England and Wales, you can ride down pretty much any right of way except footpaths, though check beforehand. In Scotland, the majority of Highland trails permit off-road cycling.
If you're planning a big trip, plan your route according to how much mileage you'll want to do in a day, taking into account daylight hours, load weight and terrain. Having done shorter trips beforehand, you'll be able to make accurate estimations.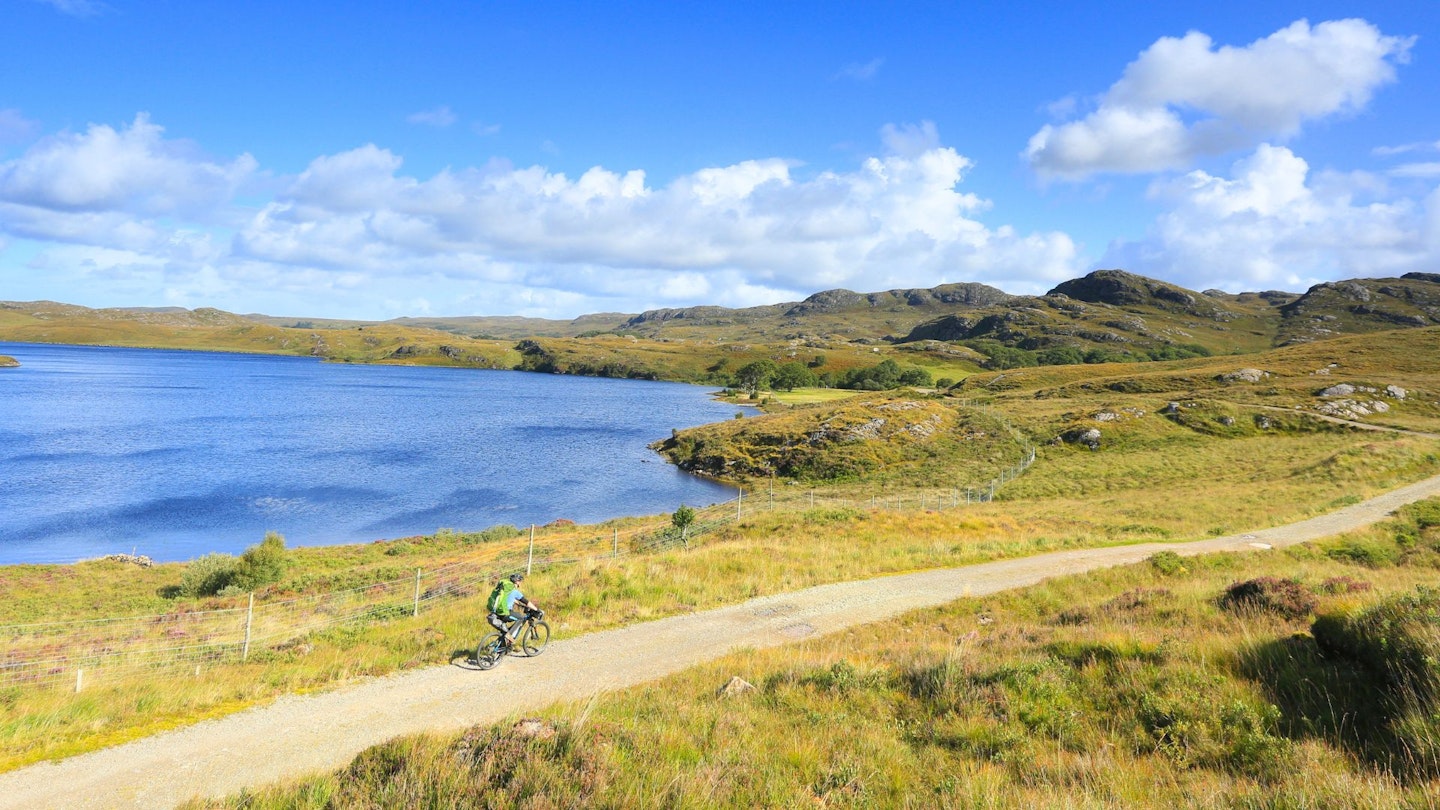 On easy gravel trails you could cover 60 miles, but haul your bike through Peak District bog and you might do less than 15 miles in the same time. Terrain will affect your journey hugely, so plan accordingly. How rideable a surface is; crossing streams or rivers; up and downhill gradients; and your ability to do that with a loaded bike are all necessary to take into account.
Some classic UK bikepacking routes include the West Highland Way, The Pennine Bridleway, and The Lakeland 300.
Alternatively, keep it shorter by riding out to a remote bothy, climbing a mountain, spending the night and wheeling back. Bagging these peaks in a single day on foot is a devilish prospect that can only be vaguely realistic on long summer days. They are therefore ideal candidates for bikepacking adventures. Examples include Munros such as Ben Alder, A' Mhaighdean, Seana Bhraigh, Lurg Mhor, and Beinn Dearg.
You can use tools like OS Maps, AllTrails, or Komoot to help find routes and inspiration.
Get half-price digital OS Maps! Trail and Country Walking magazine members get 50% off an annual subscription to OS Maps for 12 months! Find out more here.
Don't forget to subscribe to the Live For The Outdoors newsletter to get expert advice and outdoor inspiration delivered to your inbox!