Slimline all-in-one personal cooking systems – such as the MSR WindBurner, Jetboil Flash or Primus Lite Plus – are fantastic for fast and light backpacking. However, they can also be top-heavy, prone to wobble, and have gas valves and simmer controls placed uncomfortably close to the flame and directly under the (hot!) pot.
The LowDown Remote Stove Adapter from MSR solves these issues. It looks and functions like a typical off-canister stove, but instead of having a built-in burner at the end it has a mount to which almost any burner can be attached. It's a simple idea, and one we're surprised not to have seen before. In fact, so simple is it that we were convinced there must be loads of them about that we'd missed. However, a quick Google revealed that is indeed a new idea.
Although far from heavy, the LowDown is a little weightier than we might have expected, and the price seems quite high for an accessory. However, the fact that it makes so many stoves increasingly useable means the LowDown Remote Stove Adapter is an easy way to get even more out of some of the best wild-cooking devices available, and that may justify its addition to your kit.
Five things you need to know about the new MSR LowDown Remote Stove Adapter
Low & stable
With a wide 22cm diameter stance that holds an attached burner a little over 3cm above the ground, the LowDown offers greater stability than any gas canister, even one with supporting legs attached. This means the tall and narrow pots typically provided with personal cooking systems feel decidedly more secure on the mount, and you can even get away with using larger pots that would otherwise be an accident waiting to happen.
Easier control
The LowDown keeps the gas control valve on the canister, so it's no longer situated directly below the burner and a pot full of bubbling boiling water. This makes it much easier (not to mention safer) to adjust the simmer control and turn the gas off when finished.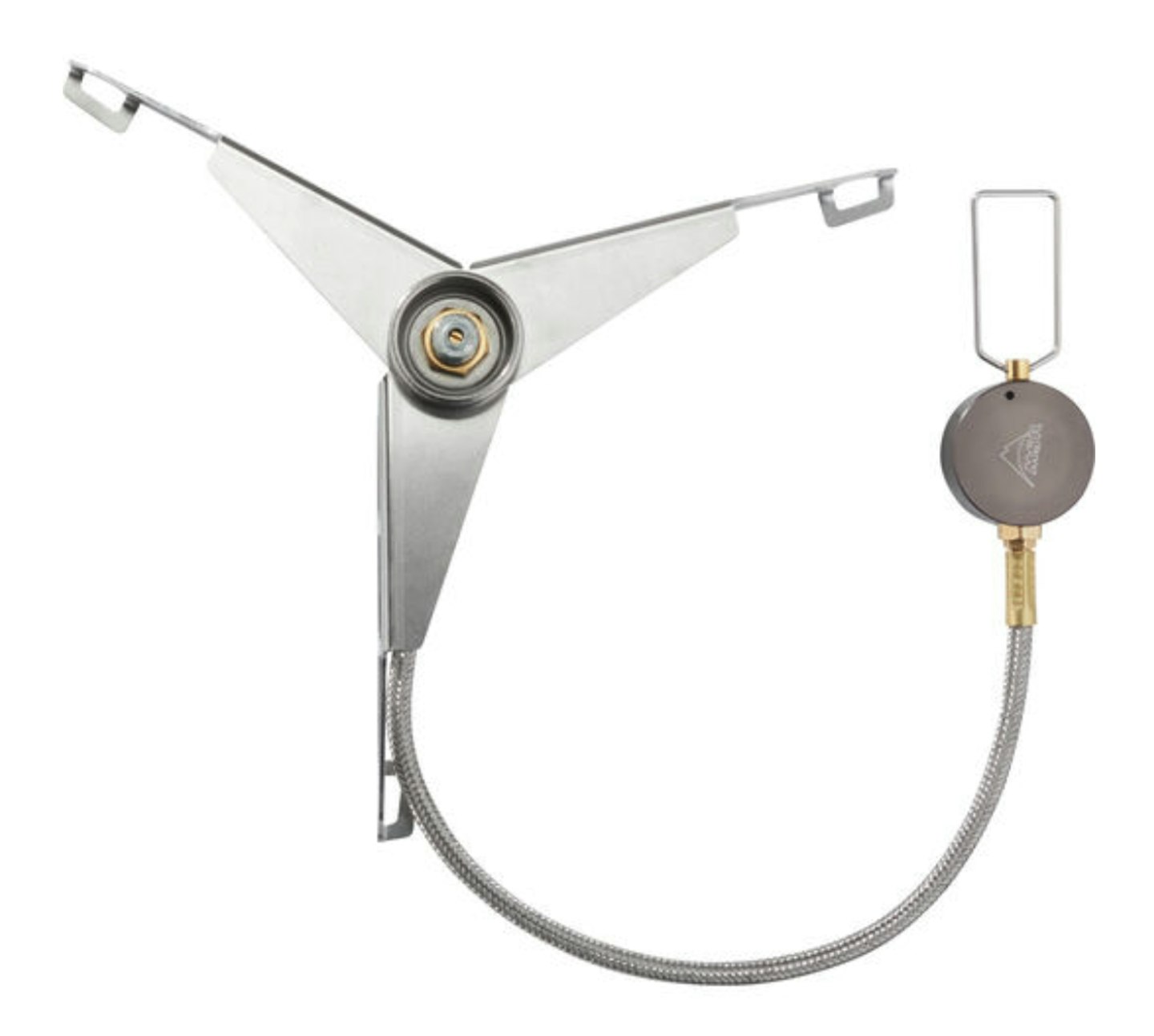 Multi-stove compatibility
The official line from MSR is that the LowDown works with all MSR canister-fuel stoves and stove systems (excluding the old-school SuperFly stove) and all fuel canisters with an EN 417 threaded connection. As most modern stoves come with this connection it's hard to see why it wouldn't also work with a range of other brands' stoves.
Solid build
The reason that the LowDown isn't any lighter is due to the solid build and robust materials used in its construction, including corrosion-resistant stainless steel and brass components.
Lightweight & packable
While not quite featherweight, you're unlikely to notice the 176g of the LowDown in a pack that also contains a stove and overnight camping supplies. It doesn't take up much space, folding down to a neat, slim package, although a soft storage pouch would have been a nice addition.
Serious stuff
Name MSR LowDown Remote Stove Adapter | Price £45 | Weight 176g | Packed size (approx) 3.6x4.3x13cm
Trail verdict
This is an essential add-on to any of MSR's (and possibly other brands' too) fantastic but top-heavy canister mounted stoves.
Don't forget to subscribe to the Live For The Outdoors newsletter to get expert advice and outdoor inspiration delivered to your inbox!
For the latest reviews - including extra photos and kit that won't appear online - pick up a copy of the current issue of Trail magazine!