a thousand thanks!
It's 18 months now since I personally began my #walk1000miles journey and I almost don't recognise the chap I've left now about 1700 miles behind me. My daily walk has turned back time on my gut and blown away any gloom I might have had building up on my middle-aged horizon. And it's been sheer joy to be part of a community so determined to make – and so adept at making – life better by walking about an hour a day. It doesn't sound like much of an investment and indeed it isn't, in the sense of back-breaking work and personal sacrifice. But it is an epic fertiliser for life. Just look at the endlessly rich crop of material you provide for the ever-growing newsletter and magazine, for which I'm so grateful. I hope you enjoy the results half as much as we did putting them together!
The new issue's out today and it's just fantastic
and Lots of you are in it!
Want to know a secret? How about a few dozen? Because the latest issue of Country Walking is stuffed with them. From secret doors in the Lake District through through which those really in the know disappear in high summer, to the coves, bays and beaches you stand a chance of having all to yourself, we're in the business of delivering you a magical summer on foot. We've even found a secret valley in the Peak District that Peak-loving deputy ed Nick (who thought he knew the place inside out) is still in raptures about. We've got a guide to walking each of Snowdon's eight satellites for incredible views the masses miss out on, a round up of the shortcuts and life-hacks that every walker should know, oh and just tons more stuff in an edition we LOVE! Plus there's our ace free 24-page supplement 'Better with a Dog' dedicated to walking with man's furry, foolhardy, emotionally incontinent best friend!
Headphones on! Unbearable cuteness ahead in this month's best-of video!
Lower or higher? Try our fun quiz – bet you struggle with no.10!
Can you put these popular pairs of peaks in the proper pecking order?
Where's Jenny?
Country Walking's ever-roving features editor has sent us this from somewhere new. But where?
Meet a completer!
It's not a race – except in the sense you're competing against the Old You – and every milestone's worth celebrating, but it's exciting to hear from people who (often to their own surprise) find themselves crossing their 1000-mile finish line with tons of time in hand. Here are a handful of heroes in their own homes!
Kate Wilson, 49, Leicestershire
How does it feel?
Great, a real achievement. I was surprised I managed to get the last mile in somewhere really lovely and not just walking to the kitchen like my other half did.
What's the best thing that's happened?
I've saved loads of money on petrol, I've only driven to work once since January and I used to drive daily. The walk home also helps to de-stress and make me feel happier.
Laura Birch, 35, from Welshpool
What's my top tip?
Make the most of a good day and take the longer, less explored route home.
Helen Powderham, 32, Horsham
Have you surprised yourself?
Absoutely amazing, I thought it would take me all year as I was never one for walking, but this challenge has changed my life in more ways than one.
What's the best thing to have happened?
I've gone from not being able to walk without crutches since damaging my knee and having to give up my chosen profession, to being able to walk without crutches and to go back into the profession I love. And my confidence has gone from rock bottom to sky high: this challenge is amazing!
Peggy Moore 61, Oklahoma
What's the best thing for you about taking part?
Friendships from across the pond is the very best surprise. A love of photography, the birds singing everytime I go outdoors and the bantering in the group.
How did you celebrate?
Besides jumping up and down whooping to my husband and friends, I went to a celebration dinner at our favorite Mexican restaurant with a clink of our Margarita glasss or two.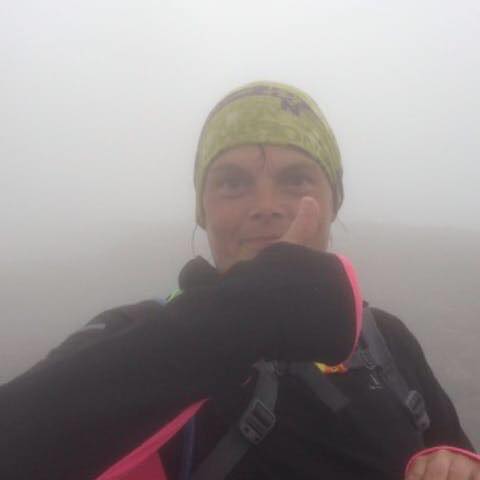 Jacqueline Whalen Crawford, 51, Dalbeattie
How did you celebrate?
With a stranger I met at start of my walk up Ben Nevis called Phillip. We reached top together and and reached the bottom together – each pushing the other on.
Julia Martin, 53, Lichfield
What are you most pleased about?
Losing a lot of weight, having much more energy and being able to actually relax and enjoy the peace and quiet of the Countryside. Being able to buy a complete new wardrobe of clothes that even my 17 year old daughter wants to wear and the confidence that i have discovered. I'm a completely different person!
Any words of advice?
Give it a go, you won't know until you try and start slowly and build up. I started on a mile a day and I can now easily do 25. I never thought I'd be able to do that!
What's your latest daily target? Check now!
Am I normal? Am i good enough?
They're questions many of us ask ourselves at various points in our lives, and particularly when we're taking on a new challenge. Thankfully one of the things we know about walking is very good at is making ourselves more accepting of ourselves. But here at CW we're horrified by the thought that anyone at the fringes of or perhaps outside #walk500miles & #walk1000miles, or the world of walking generally, might feel in some way unqualified for or unequal to the challenge. So we did a survey, which so far over 450 of you have anonymously and therefore presumably honestly filled in and which if you haven't you still can, to find out a bit more about us as a group, and to see how it matches up to the imagined 'normal' that might be skulking unhelpfully in the back of some people's minds.
Do you consider yourself a really fit person?
Where is most of your walking done?
Have you ever been depressed?
Are you completely happy with your body?
We also invited you to confess to any quirks...
...an offer hundreds of your accepted, including:
There will be more results from this fascinating survey in the September issue of Country Walking.
Thanks for the inspiration!
Sarah aitchison, 33, from norwich
One of the many heartening tales from the challenge we wanted to share with as many of you as possible, but it's got a twist in the tail!
What's your story Sarah and what made you sign up?
When I joined slimming world I nearly broke the scales! I I've always been a big girl but when I hit my teens it changed from being just big to being fat... I let myself get bigger and bigger and just kept ignoring it. It got to the point that however old I was that's what I weighed (well within a little).
I tried Weight Watchers, had help from my GP and Slimming World but I would get so far and then give up. I was unable to complete the most basic of tasks like shopping, without being out of breath or my back killing me.
I was so unhappy but it was just who I was and I made up for it by wearing a well-tested mask which most people couldn'tsee through. I became so reliant on the mask that they thought of losing weight and having to find out who I really was was daunting! Who am I?
Then I started walking, and when I saw the #walk1000miles challenge I wanted to prove to myself I could do that. Now I'm at 610 miles, nearly 8 and a half stone lighter and my life has changed. I feel amazing!
How does it feel to be nominated as one of the most inspiring members of the #walk1000miles Facebook group?
Very humbling! I love the group, it's so friendly and supportive no matter where you are in your mileage everyone is rooting for you.
What's some thing you're looking forward to now?
Buying a new wardrobe! I'm putting £1 in a pot per mile, so when I get to my weight target I'll have enough to have a lovely shopping weekend away with my mum.
How do the the walking and non-walking parts of your life affect each other?
Doing my walking has definitely lifted my spirits, it gives me time to sort my brain out after my stressful shifts – especially night shifts! (I'm a dispatcher for the East of England Ambulance Service). When I started walking I did it just for the exercise, now I find I just enjoy it for itself. You'd have a job stopping me now!
What's headline news in your life right now?
I would have said completing a five-mile, 40 obstacle mud run (I walked) but unfortunately something has eclipsed it. Yesterday I had a car accident when woman was on the wrong side of the road and didn't see me! I'm in hospital with a broken ankle so I'm currently on a slight hiatus!
AHEAD OF THE CURVE? DOWNLOAD & PRINT YOUR CERTIFICATE OF COMPLETION!
Done your first 500 and want to pin up morale-boosting proof for all to see? Smashed the magic 1000 and looking for something fitting to grace the downstairs loo wall? Just want something to hold up and hold while saying 'Yay!' for your next Facebook post? Click the pic! We'd love to see them!
Psst! Want to buy a #walk1000miles sports cap?
They're available in very limited supply – click the pic
Save money on our t-shirts, mugs & hoodies
32 utterly pointless stiles and gates
Don't forget – you get 15% OFF AT COTSWOLD, IN-STORE AND ONLINE FOR BADGE-HOLDERS
#walk500miles and #walk1000miles challengers are held in such high esteem by Cotswold Outdoor, they refuse to let you pay full price for anything. Just present your badge in any of their stores any time this year and watch tenners fall off your bill.
Not got your badge? You can buy 1000 badges here. (Please allow 28 days for delivery, although we aim to do better). Or use the online code: AF-WALK1000-P5
Where's Jenny? There's jenny!
Click the map to see it in OS Maps (free access to Premium Maps with your subscription to Country Walking!)
Posts of the month
Click the pics to see the posts in full
10 It's not like Helen hasn't given the national park enough notice of this badger invasion!
9 Night-owl Mickie has a nest-mate!
8 Excellent felt-tip fireworks at half way Miriram!
7 #walk500miler Jeanie had a revealing missing of minds with an old acquaintance
6 Rob's son (4) wanted to climb a mountain. Rob knew just the one
5 Jacine had some agency work today being a companion for a lady with severe depression and anxiety. It went well.
4 Of all the places to finish, Amy might have the best
3 We have a new addition said Rebecca...
2 Rachel hit a massive milestone and says she couldn't have done it without you lot...
1 Now that, as Jay so rightly said, was a sunset. Also, he has news.
Treat yourself – you've earned it!
Click below to visit the shop
The winner of the Scarpa Kailash Pro boots and Deuter Helium 34 rucksack from the last newsletter is...
Tracey Crampton from Kent! Well done Tracey, your booty will be on its way shortly!
And finally...
What do you call a dog who can do magic tricks?
A labracadabrador.
(If you read this far, perhaps you'd let me know by posting Woof! randomly in the Facebook group. Market research, innit.)
It's not too late to join in!