Trail magazine's 'Walks of a Lifetime' series takes you on a guided tour of the greatest mountain routes in Britain. This time we're heading to The Dodds of the Lake District, with experienced mountain connoisseur Tom Bailey as our guide.
Click here to download this walk of a lifetime route from OS Maps
North of Helvellyn and south of Blencathra lies a broad, undulating ridge, which forms a major spine of the Lake District. It connects a set of mountains that are made for romping over, so shallow are the drops between them that your legs will collect the peaks before you know what's happened.
Clough Head and the Dodds make up this quieter part of the Lakes. Along with huge lead mines, the return route sweeps around to the east, following an old coach road across lonely, empty fells. Save this route for a day when you feel fit, free and positive. If you do, you'll hoover up a vast area of Cumbrian fells with ease. Days like this don't come along very often, so embrace it and walk it with a friend, because it's always good to share a great day.
The north face
Starting at map point 1 (grid ref NY320246) a permissive path leads out along a disused railway. After less than 1km it bisects a track – follow this in a southerly direction and you'll now be looking the north-west face of Clough Head squarely in the eye. I've admired this end of the fell for a long time. It's the northern end of our ridge, one which looks like a giant bite has been taken out of it. This, along with steep crags to the west, give Clough Head a dramatic identity.
Passing map point 2 (NY331242) the path swings around to the south-west before starting to zigzag closer and closer to the face. Threlkeld Knotts fills in the foreground, and grassy lumps give way to the drama of Red Screes on Clough Head's impressive face. The path seems to take an alarming angle, raking to the south-west to allow for the shortest route up through the scree and rock bands. I love this climb, particularly near the top of Clough Head's western shoulder. It's drama in small doses, so savour it.
Heading up the western ridge brings you to the trig point at the summit of Clough Head (map point 3, NY334225). There's a shelter here, one well worth spending a few minutes in, ogling the northern lovelies that are Blencathra and Skiddaw. It's from these that I've admired the Red Screes and Wanthwaite Crags end of this fell. You're on one hell of a juicy hill. I'm a big fan of lonely cairns and there's one at White Pike, another 700m to the north-east. Given the length of today's route though, I think we'll save it for another time.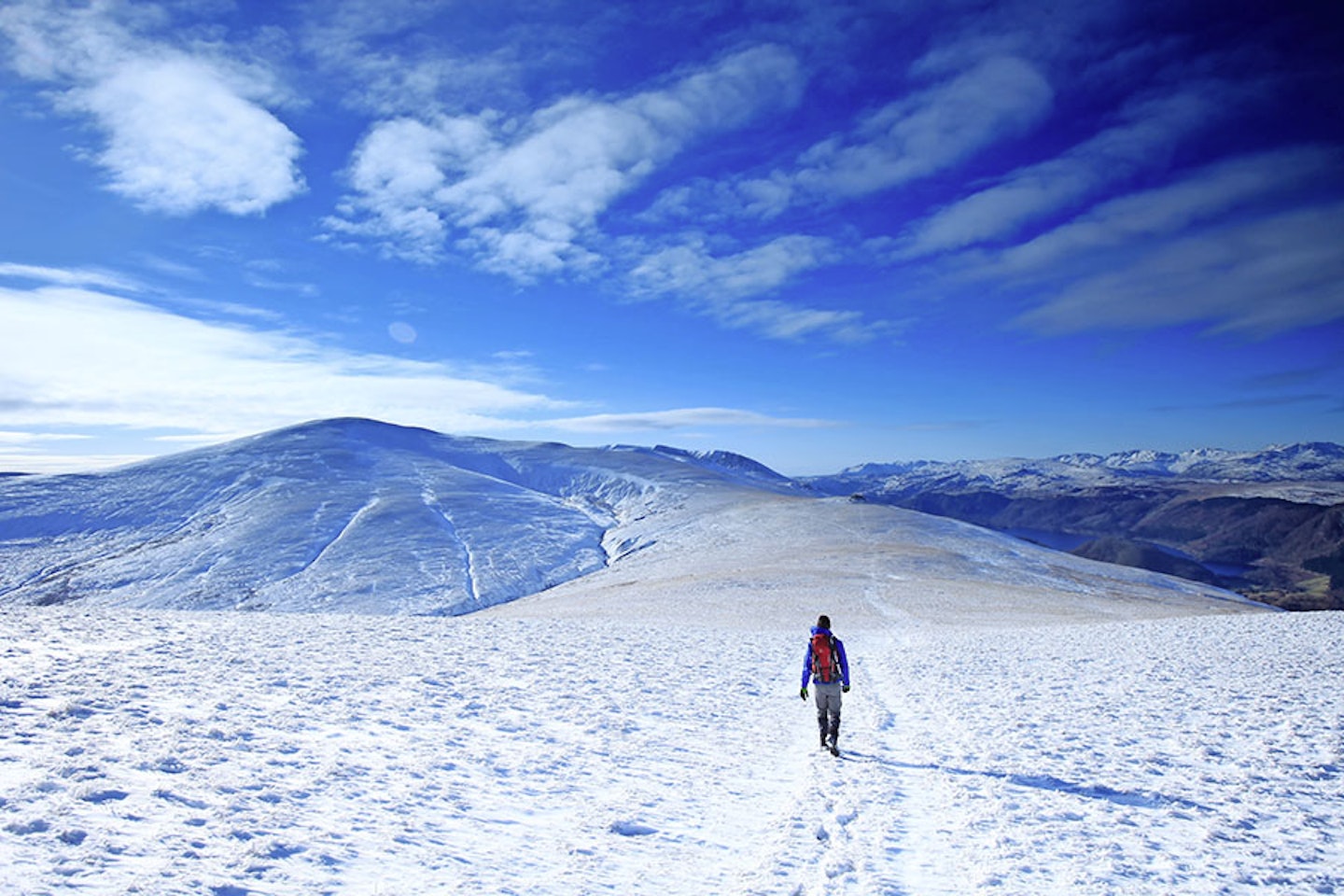 Rolling ridge walk
Right, so you've climbed up the first mountain of the day, done the hard work, now the fun starts. With your back to Clough Head's trig point, look south at the next couple of hours' worth of walking. A broad, grassy ridge sweeps up to Great Dodd – this is pleasurable going, never stiff, with climbs and descents that are taken with ease.
Just over one kilometre south-south-west from Clough Head is the second peak, Calfhow Pike (map point 4, NY331211). A small cairn marks the spot of this bump in the ridge. The land pinches together more on the way to Great Dodd, the first of the 'three Dodds' (Ken not being one of them). At 857m Great Dodd is the high point of the day (map point 5, NY342206). True to the name 'Dodd', it's a big, round hill.
The whole of this raised, grassy ridge forms a plateau of sorts, which is perfect habitat for skylarks. February is a great time to hear and see the song flight (hovering 50ft in the air, twittering away). All summer long skylarks frequent these hills, not to be confused with the meadow pipit (another small brown bird, synonymous with the fells).
Making a wonderfully sweeping turn, the ridge is followed south-south-west, initially down, then hardly up at all as the prow of Watson's Dodd is encountered (map point 6, NY336196).
Who was Watson? Do we really care? All information of this kind is abstract, what really matters is you are here and it's now. You can look west from this vantage point and see over the Lake District, and there is so much wonderful, desperately needed space up here. I think that's why I love this walk so much – the wide open hills, never creating a sense of claustrophobia. Up on the Dodds you're walking in the sky.
Rakishly swerving back to the south-east, the clearly visible path (unless it's snow-covered) has to do a little work to greet the cairn on Stybarrow Dodd's 843m summit (map point 7, NY343189). Looking south from here, Stick's pass is below you, Raise in front with its ski tow visible on the northern flank. Your gaze will also take in the Helvellyn range, looming above and around Raise. If you carried on in that direction then the day would get very busy indeed, but guess what? We're not going that way, we've far more interesting times ahead of us.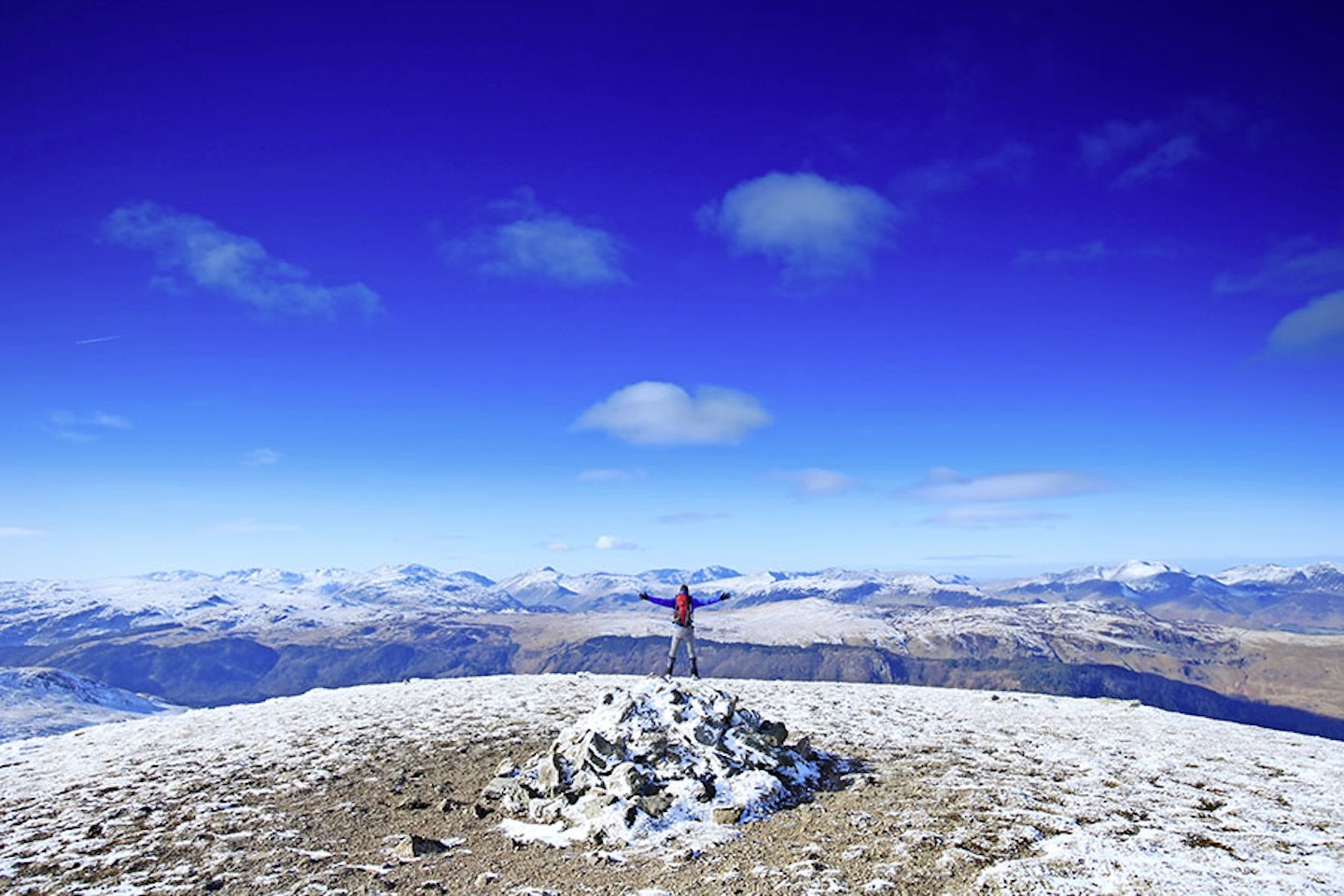 Historic descent
Take the easterly path from Stybarrow's summit, sweeping down and up to White Stones (map point 8, NY353188). Without pausing at the cairn, the path briefly heads east-north-east then swings curvaceously around to the south-east, passing the top of an old lead quarry. Now this is a bit special. Greenside mine closed in the 1960s, quite late for this sort of thing. In the mines directly south of you the Atomic Weapons Research Establishment carried out tests to see whether they could detect signals from underground explosions. Basically, to see if they could tell if Russia was secretly testing atomic weapons. So, these humble holes in the ground are an important part of our Cold War history. Chilling.
The path follows a plunging ridge, intersecting a path on the 620m contour line (map point 9, NY361184). Glencoyne Head is a delight to walk beneath. The path heads north, traversing around the head wall, thin at times but clear enough to follow. Lead mines gape out at the more observant of you. Sheffield Pike is hard to ignore from this angle, a lovely little peak lodged amongst the greats. Continue to follow the traverse until past the crags, this is the indication to look out for a split in the path (map point 10, NY369192). Heading north at this junction, the day ramps up a gear now as you're into the yomping stage of the route. You've a large distance to cover, but the good news is the contours lessen. After one and a half kilometres, Aira Beck is crossed by Dowthwaitehead (map point 11, NY371207). A footpath mirrors the line of the road heading north-east, then swings north onto a lane, joins the road for a bit, then breaks north-west at map point 12 (NY380219).
Old coach road
This is the start of a wonderfully contour-hugging old coach road and that means the going will be easy, because those old coaches couldn't get up anything steep.
Passing such places as Wolfcrag Moss, one can't help getting carried away with the past events and what might have been. One thing's for sure, it passes the time. Eventually, many kilometres later, you'll hit a prominent fence line at Hausewell Brow.
Follow this in a north-north-west direction downhill and you'll find yourself back at map point 2. From here, retrace your steps from the first part of the day back to the start of the walk. I love this part of the Lakes. Looking back up at Red Screes on Clough Head once back at the car, I feel I've truly travelled.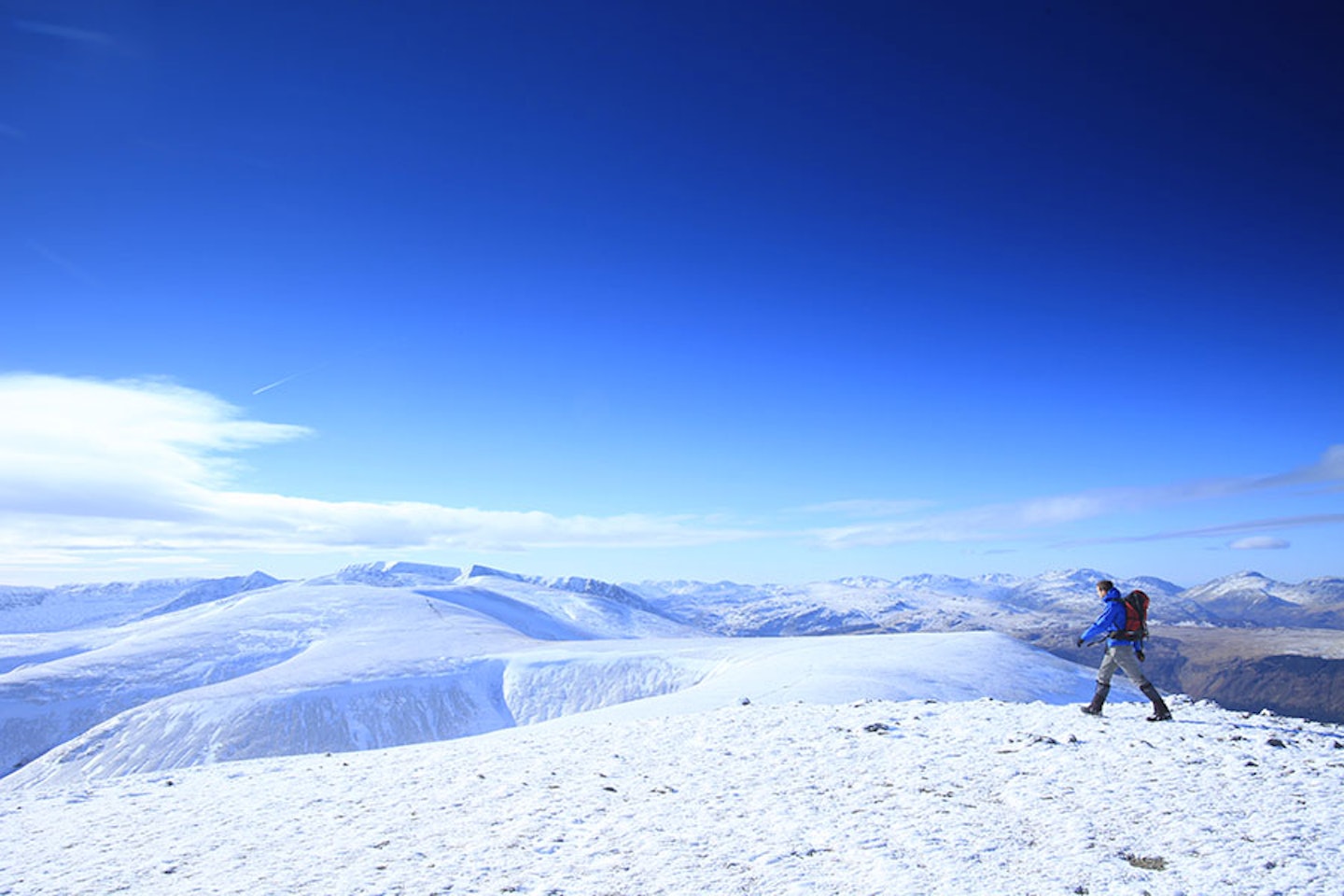 Fact file
WHERE DO I START?
In the free parking bay south of the village of Threlkeld at grid ref NY320246. The nearest town is Keswick, a few miles west down the A66.
WHAT'S THE TERRAIN LIKE?
You'll walk along a mixture of roads, grassy paths, open rocky plateaux, boggy moorland, wide tracks and steep traverse paths.
HOW HARD IS THE WALK?
It's long and tiring rather than technical and challenging, so you'll need good stamina and hill legs. Nothing here to trouble fit, experienced walkers though.
WHAT MAP SHOULD I USE?
OS Explorer OL5 (1:25k); OS Landranger 90 (1:50k); Harvey British Mountain Map Lake District (1:40k)
WHERE CAN I STAY?
Loads of great accommodation options nearby, including YHA Keswick, Linnett Hill B&B in Keswick and the Blencathra Field Studies Centre.
Click here to download this walk of a lifetime route from OS Maps

Discover great hill and mountain walking routes like this in every issue of Trail Magazine