An ice axe is an essential piece of winter kit for staying safe in the mountains. It will improve your balance and stability, and can be used to self-arrest should things go wrong.
The subject of ice axes is often avoided by hikers because not a lot is known about them. Winter boots? Sure. Rucksacks? All over it. But ice axes? Not so sure. Crampons are another one that sit in this category. However, it is our intention to extract the ice axe from its shady corner and provide you with useful guide that will not only explain what to look for in an ice axe, but which ones are best.
What to look for in an ice axe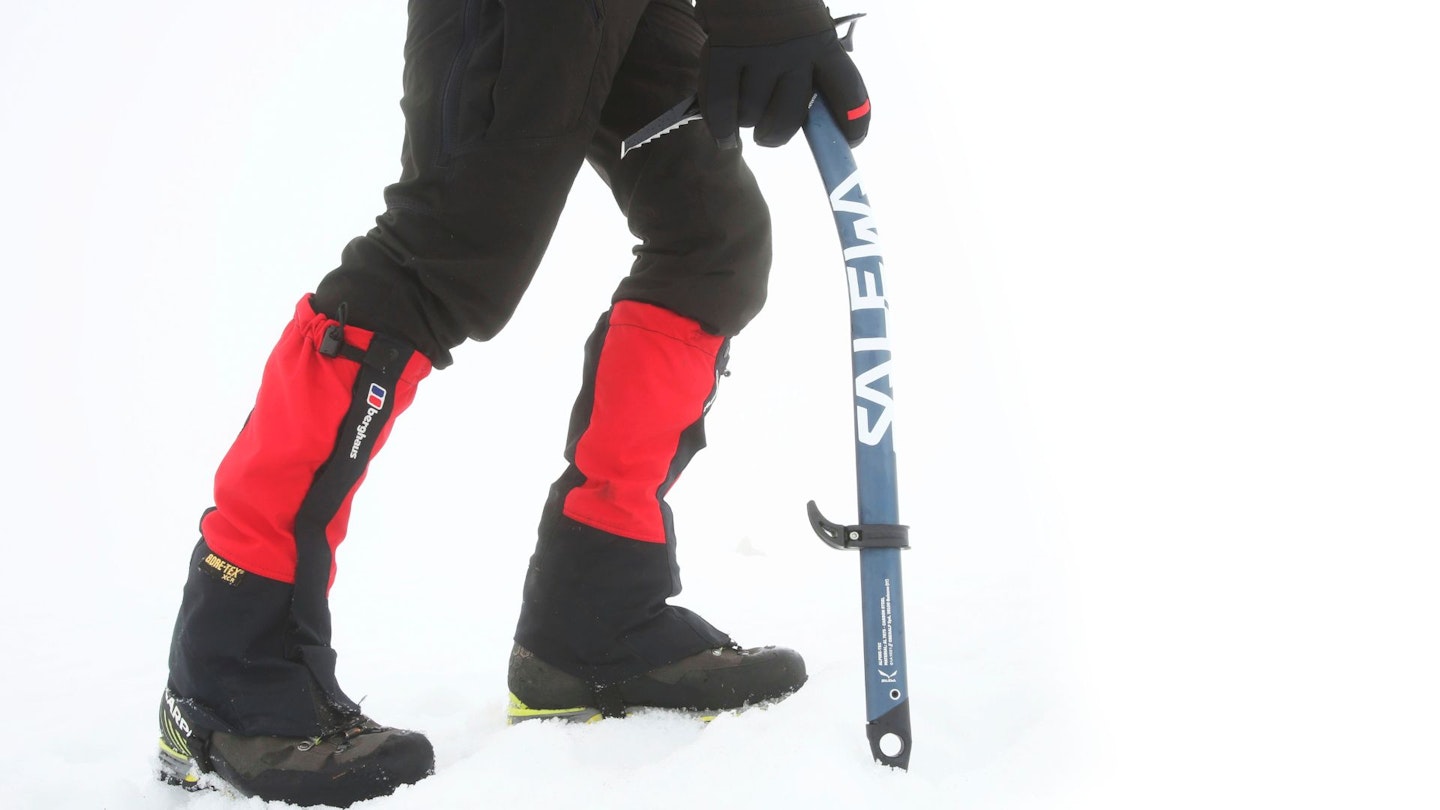 Adze: The adze is a spade-like feature for cutting steps in ice or excavating snow. It's usually triangular in shape, with a scooped end and a broad, squared-off edge.
Axe head: If you think of an ice axe as T-shaped, the axe head is the horizontal top of the 'T'. The head has two main components: the pick and adze. Ordinarily, heads have cold-rolled or hot-forged steel, though lightweight axes use aluminium, which isn't as strong and blunts quicker. Some axes have a grip or cover over the central portion of the head for enhanced carrying comfort.
Length: Ice axes are often sized between 55cm and 75cm, but can be longer. Your correct length depends on your height, personal preference and the terrain you'll encounter. Traditional wisdom suggests that – when holding the axe head with your arms held naturally to the side – the tip should reach your ankle. However, hillwalkers may prefer a slightly longer axe. This is so it can be used in piolet mode without stooping. Climbers may favour a shorter axe as the general rule of thumb is 'the steeper you go, the shorter your axe should be'.
Pick: The pick is the axe's blade with an underside of serrated teeth. It's used on steep terrain and for making ice axe arrests (to stop a slide). Technical axes have a more aggressive, down-turned pick curve, while hillwalking axes feature a minimally-curved neutral angle, which makes self-arresting easier.
Shaft: Hillwalking axes used more like a trekking pole (known as 'piolet mode') tend to have straight shafts. Mountaineering axes that are swung when climbing have a curved profile. The greater the curve, the more climbing-oriented the axe. Shafts are normally an aluminium alloy tube, which is lightweight, strong and durable. Some axe shafts have rubber overlays or integrated grips to help keep your hands warmer.
Spike: The metallic point at the base of an axe base is known as the spike. You thrust it into snow and ice when used in piolet mode, providing support and stability over wintry ground. The finer the point, the better penetration and grip achieved.
Strength rating: A Type 1 or B-rated axe is suitable for winter walking and general mountaineering, and is likely to be lighter and cheaper. Type 2 or T-rated axes are stronger and can be used on more difficult and graded winter climbs. Some T-rated axes can work perfectly well as walking axes too.
Weight: If primarily using the axe as a winter walking aid, a lower weight is preferable. Carrying the axe in hand will be comfier and less tiring. But for more technical use such as cutting steps, self-arresting or when swinging the axe, extra weight in the axe will provide improved bite and more secure placement. Mountaineering axes tend, therefore, to be heavier than walking axes. Some axes have stamped-out sections (holes) to reduce their overall weight.
Wrist loop: To prevent an axe being dropped, a removable leash attaches to the axe and secures it to the wrist. Some axes come supplied with a leash, but they can also be bought separately.
The best ice axes for hiking
Petzl Glacier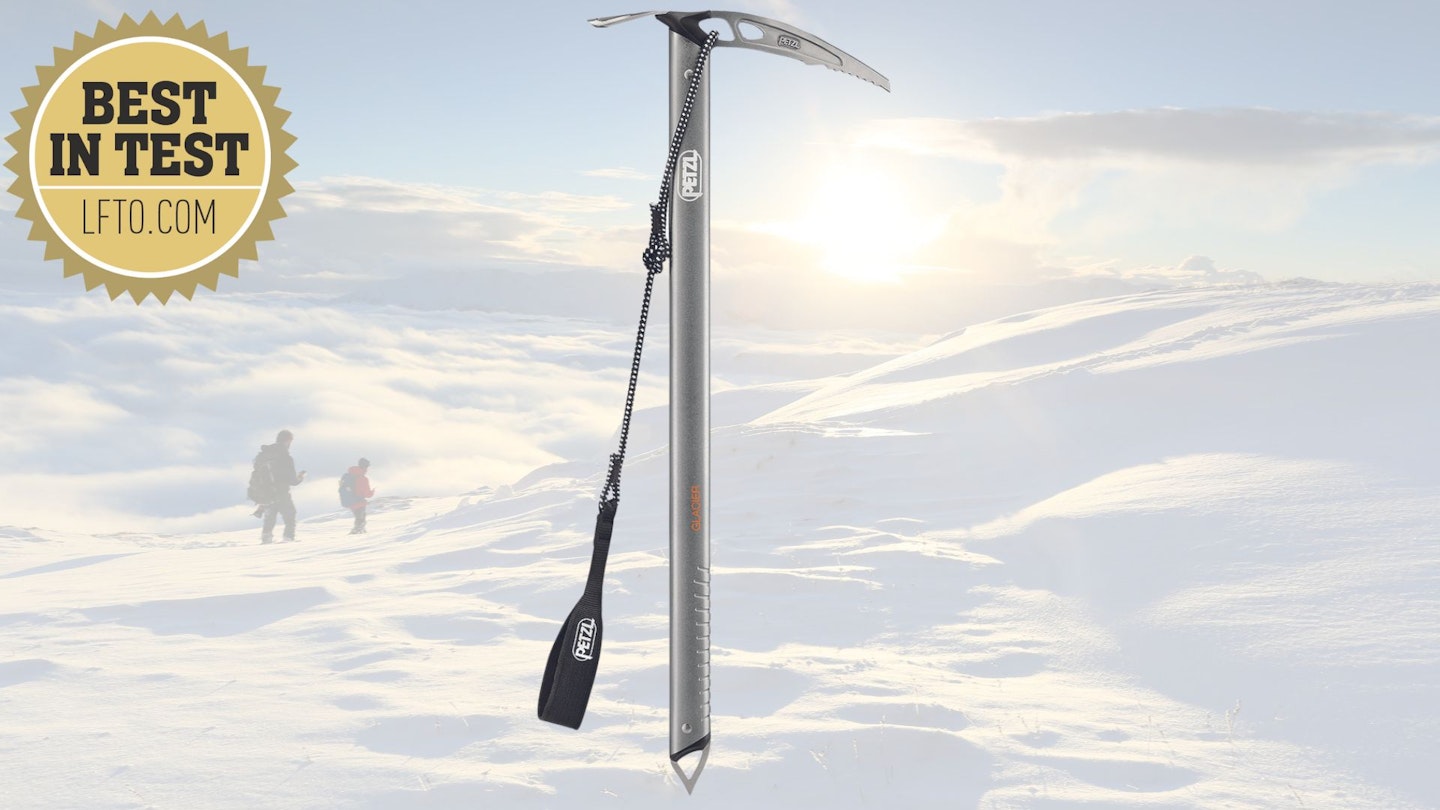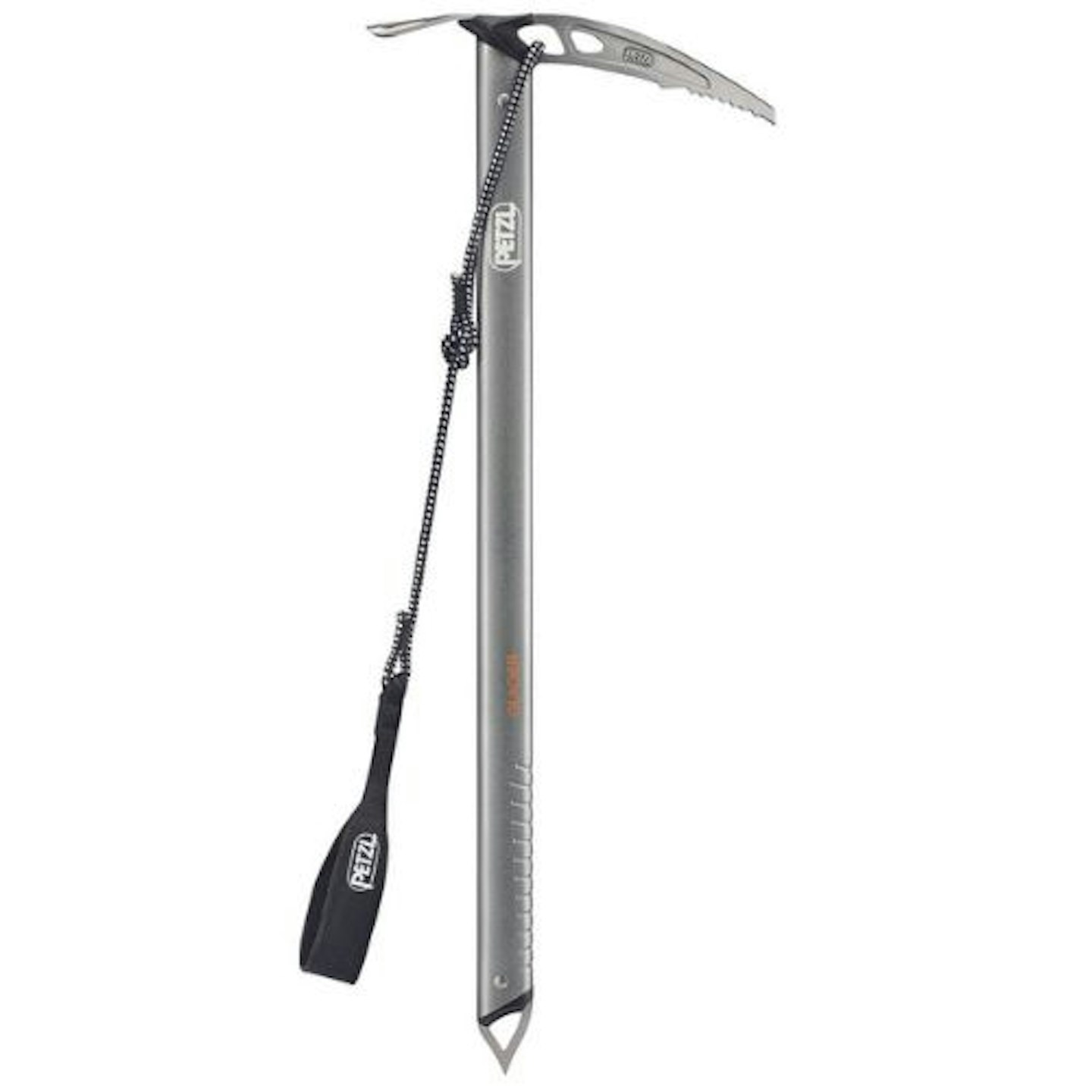 1 of 1
Petzl Glacier
Pros: Comfortable in the hand, versatile, lightest axe on test, well-designed
Cons: Too light in axe head for some users, pricier than other models
A great all-rounder of a winter hillwalking ice axe from a reputable brand. The Petzl Glacier self-arrests capably, has a slightly more aggressive pick than other options (which means it climbs steeper snow slightly better), and has a wide, squared-off adze that clears out snow well.
Although primarily designed for use in traditional piolet mode, the Glacier has technical features for use on steeper ground too. It's therefore a versatile option for winter hillwalkers with an intrepid approach.
The anodised 7075 aluminium straight shaft has machined grooves for better grip. The axe head is made from high quality steel. Its toothed pick is identical to the pick used in more technical ice axes, and guarantees "solid bite and durability", according to Petzl, with geometry engineered for sure and stable anchoring.
The wide adze also has sharp edges, and the stainless steel spike pierces hard snow very well. The upper part of the pick is comfy in-hand, and holes in the head and spike can be used for a carabiner.
Verdict: A great all-rounder at an ultralight weight – but some may prefer more heft and weight in their axe.
Features 4/5 | Comfort 5/5 | Lightness 5/5 | Performance 4/5 | Value 4/5
Overall score: 88%
Lengths 60cm, 68cm, 75cm | Weight 375g (60cm, including wrist leash) | Strength rating 1/B-rated | Wrist leash included? Yes
DMM Spire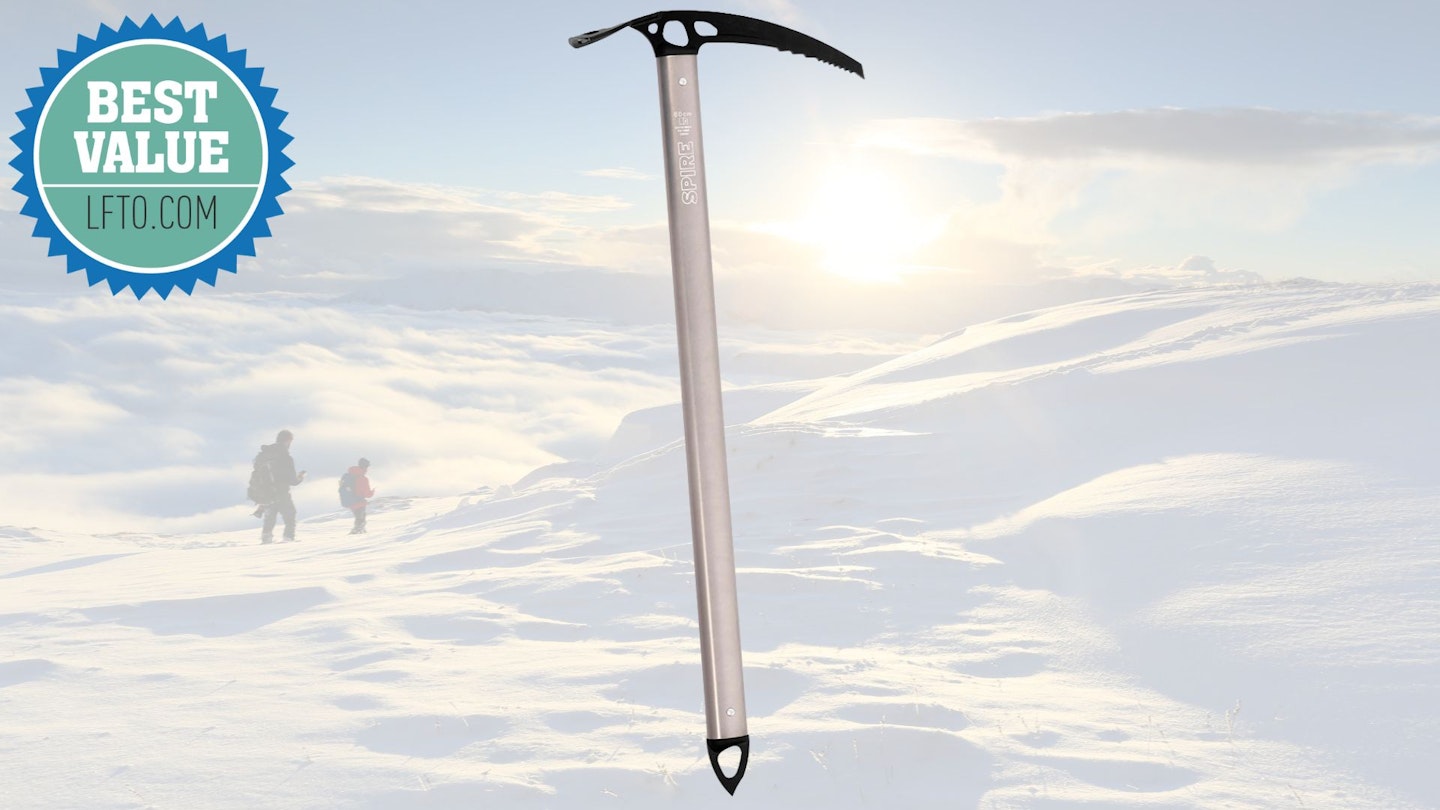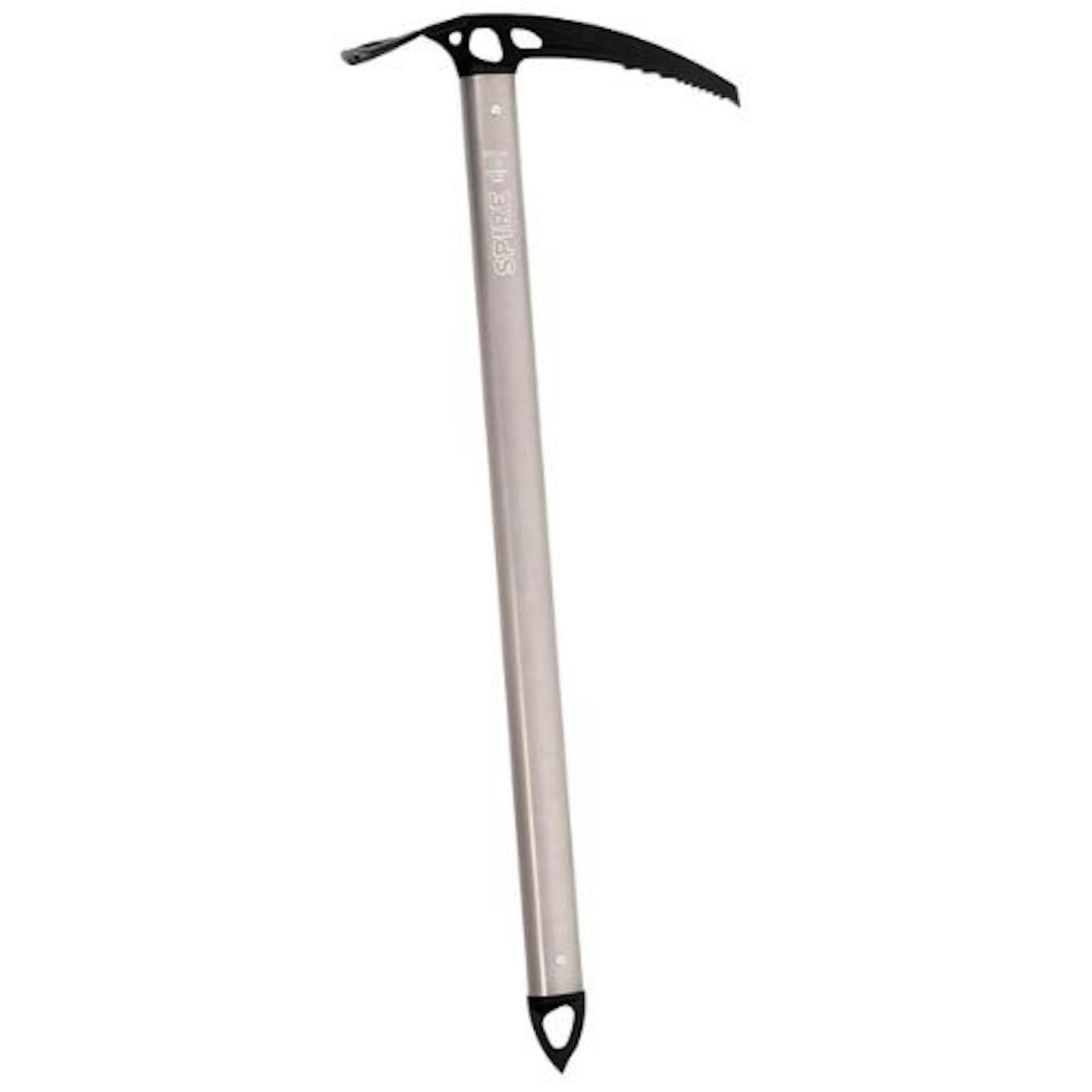 1 of 1
DMM Spire
Pros: Lightweight, comfortable to hold, made in the UK
Cons: No wrist leash supplied
With a sensible price tag and excellent performance, the DMM Spire features a lightweight shaft combined with a high strength head, resulting in a modern ice axe with just enough heft to perform reliably on snow, ice and névé, as well as work fine in walking mode.
Manufactured in DMM's factory in Llanberis, under the shadow of mighty Snowdon, the Spire has a straight shaft made from anodised aluminium, and a pick and welded adze made from a high-strength steel alloy. This approach aims to strike a fine balance between lightness and toughness. At just 380g, the Spire is certainly light enough to carry easily and comfortably, yet it can still penetrate ice, cut steps and deliver "excellent purchase and durability", as DMM puts it.
The strong, durable spike provides good grip and security. And the pick angle offers respectable performance on steeper ground and enhanced penetration in ice and snow. Both the pick and spike have tethering points for a carabiner or sling. The axe head is comfy in the hand, thanks to the sloping, ergonomic shape.
For more technical pursuits, the Spire Tech has a slightly curved shaft and machined grip and is available in three sizes (45cm, 50cm, 55cm).
Verdict: A meticulously designed winter hillwalking axe at an affordable price – but it doesn't come with a leash.
Features 4/5 | Comfort 5/5 | Lightness 5/5 | Performance 4/5 | Value 5/5
Overall score: 88%
Lengths 55cm, 60cm, 65cm, 75cm | Weight 380g (65cm) | Strength rating 1/B-rated | Wrist leash included? No
Grivel G-Zero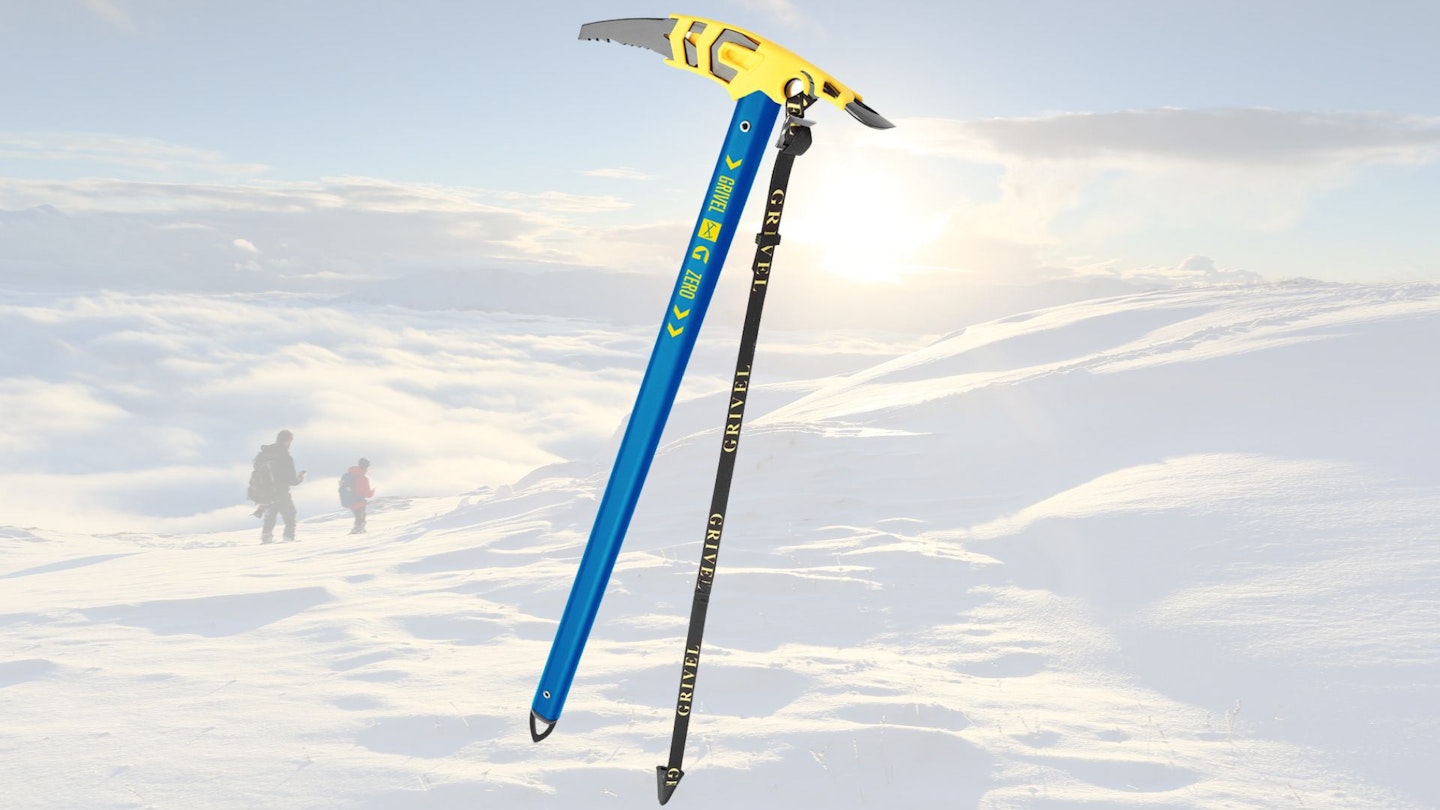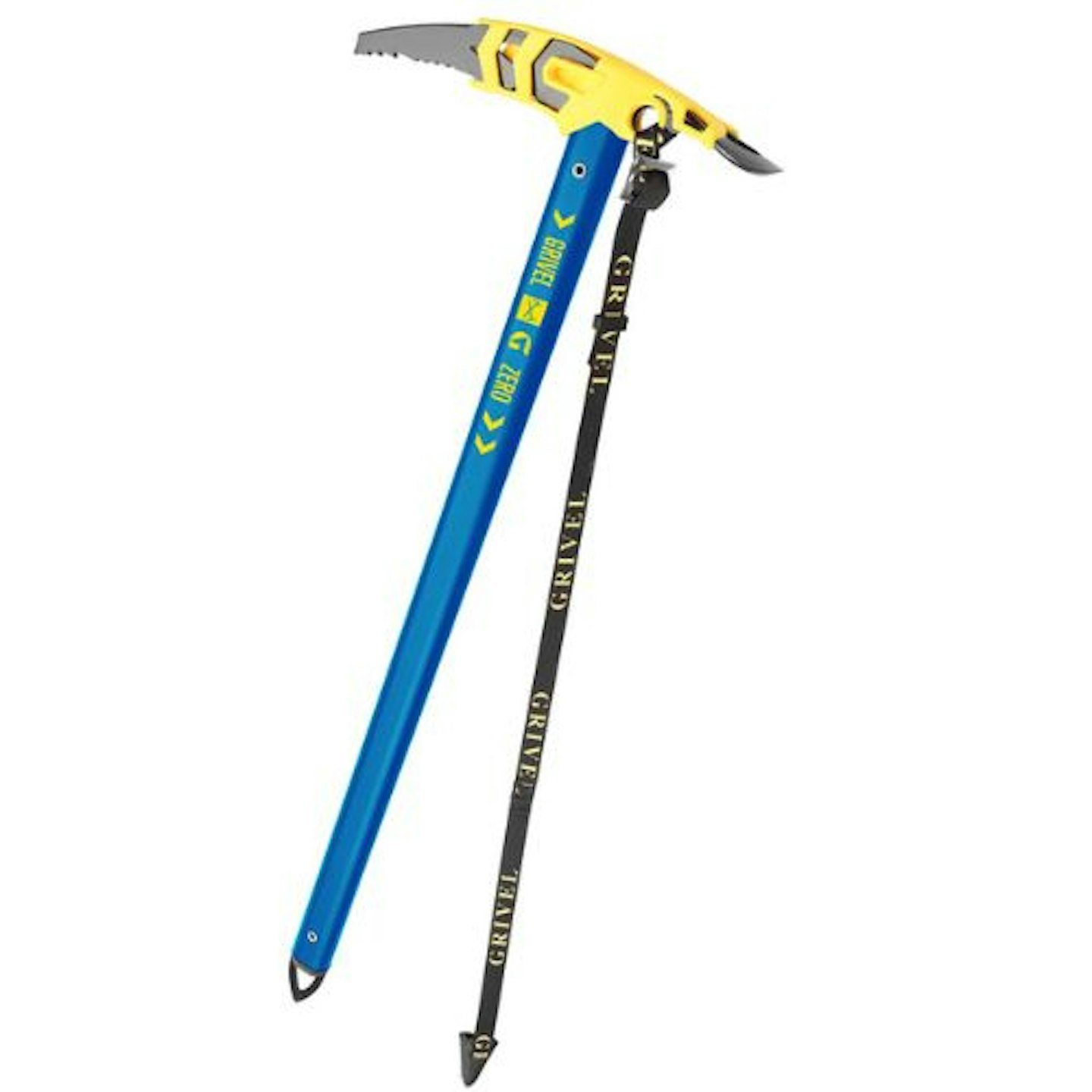 1 of 1
Grivel G-Zero
Pros: Great price, plastic head cover, comfortable, durable
Cons: Pick and adze not technical or aggressive, quite heavy
Why overcomplicate things? This no-nonsense ice axe is ideal for the beginner winter hillwalker, with a simple steel blade and adze, straight shaft, removable plastic cover for comfort and thermal protection, and an adjustable webbing leash with rubber tip for the spike.
At 479g, it's a tad heavy for a non-technical axe, but some may find additional stability and security in the extra weight. The £70 price is competitive and four bright colorways are available (pink ice axe, anyone?). The shaft is constructed from aluminium while the blade is steel.
The pick and adze aren't particularly aggressive, but for less technical use they suffice. The axe's most striking feature, however, is the soft, rubber-like plastic cover that fits over the centre of the axe head. This significantly enhances comfort when you're holding the axe in walking mode. It also insulates your fingers from the coldness of the steel and protects them from the sharper edges and teeth of the pick.
All in all, the G-Zero does the basics very efficiently and is ideal as a 'just in case' safety tool for beginner mountaineers. Grivel makes a plastic axe guard for this axe, but it's sold separately.
Verdict: A walking ice axe with a straight shaft and no-fuss design – but the adze and pick aren't particularly aggressive.
Features 4/5 | Comfort 5/5 | Lightness 4/5 | Performance 3/5 | Value 5/5
Overall score: 84%
Lengths 58cm, 66cm, 74cm | Weight 479g (66cm, including wrist leash and plastic cover | Strength rating 1/B-rated | Wrist leash included? Yes
Petzl Summit Evo
1 of 1
Petzl Summit Evo
Pros: Premium design, technical performance, rubberised grip
Cons: Expensive
A regular fixture at the top of 'best ice axe' review tables, the Petzl Summit Evo has a well-proven design and first-rate performance, and will appeal to those looking for a premium product with a touch of aesthetic flair. However it's very expensive – considerably more so than the next most expensive option in this round-up. And for most winter hill-goers there are far cheaper options that will suffice.
If you fancy splashing out, though, the Summit Evo is a "precise and efficient ice axe", with "very comfortable grip" and impressive performance on "steep icy terrain", as Petzl puts it. The aluminium shaft is lightweight, with a rubber grip at the base for better traction in the hand. A gentle curve in the shaft provides improved clearance for swinging the tool on steep, technical ground.
The axe head delivers good anchoring qualities. It achieves this by being constructed from hot forged steel. For efficient step cutting, this axe has a sharp, toothed pick and tilted adze.
The mid-range weight of 450g strikes an excellent balance between carrying comfort when walking and effective use as a climbing axe on more technical ice and snow.
Verdict: A premium ice axe with a stellar reputation for all-round performance – but it's very expensive
Features 4/5 | Comfort 4/5 | Lightness 4/5 | Performance 5/5 | Value 3/5
Overall score: 80%
Lengths 52cm, 59cm, 66cm | Weight 450g (66cm) | Strength rating 1/B-rated | Wrist leash included? No
Black Diamond Raven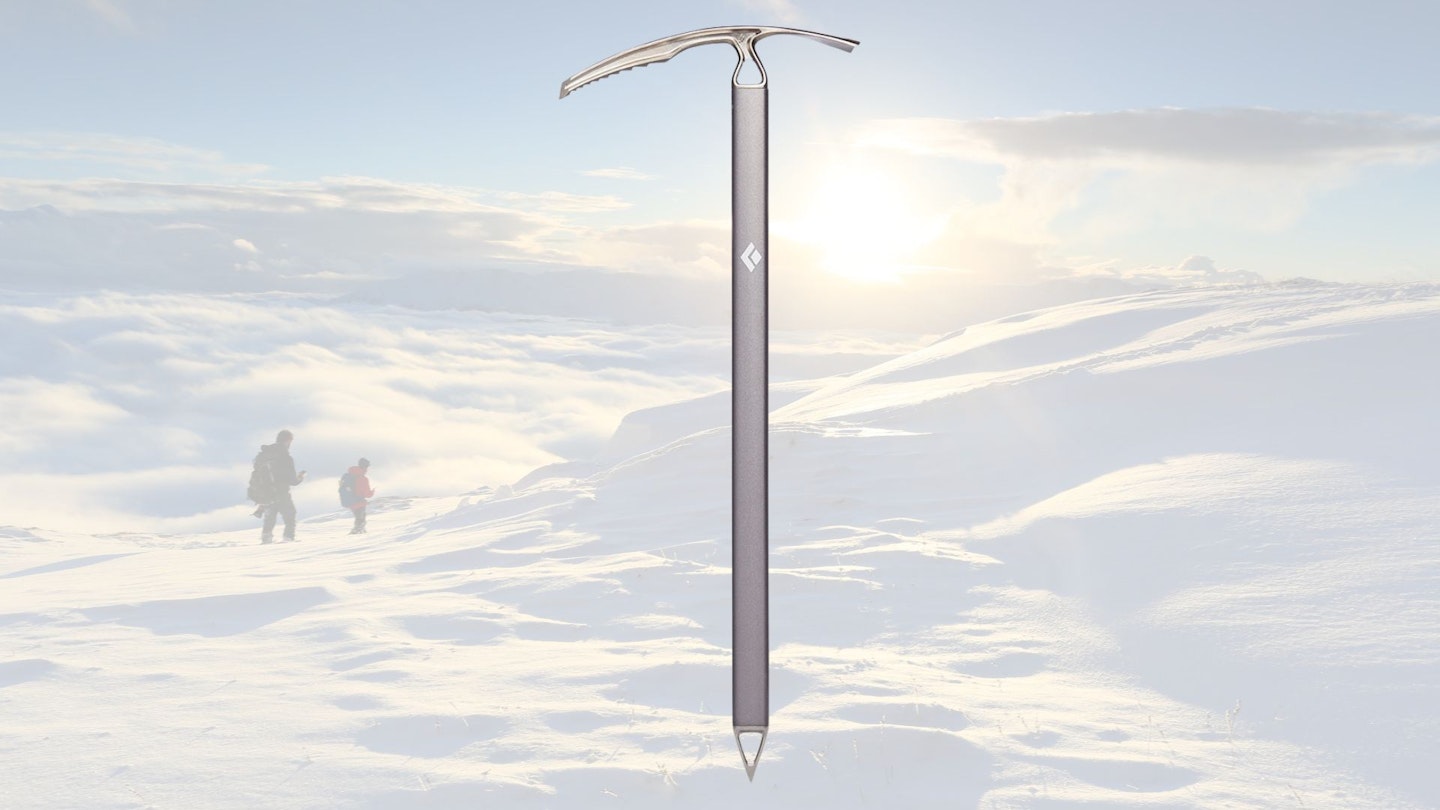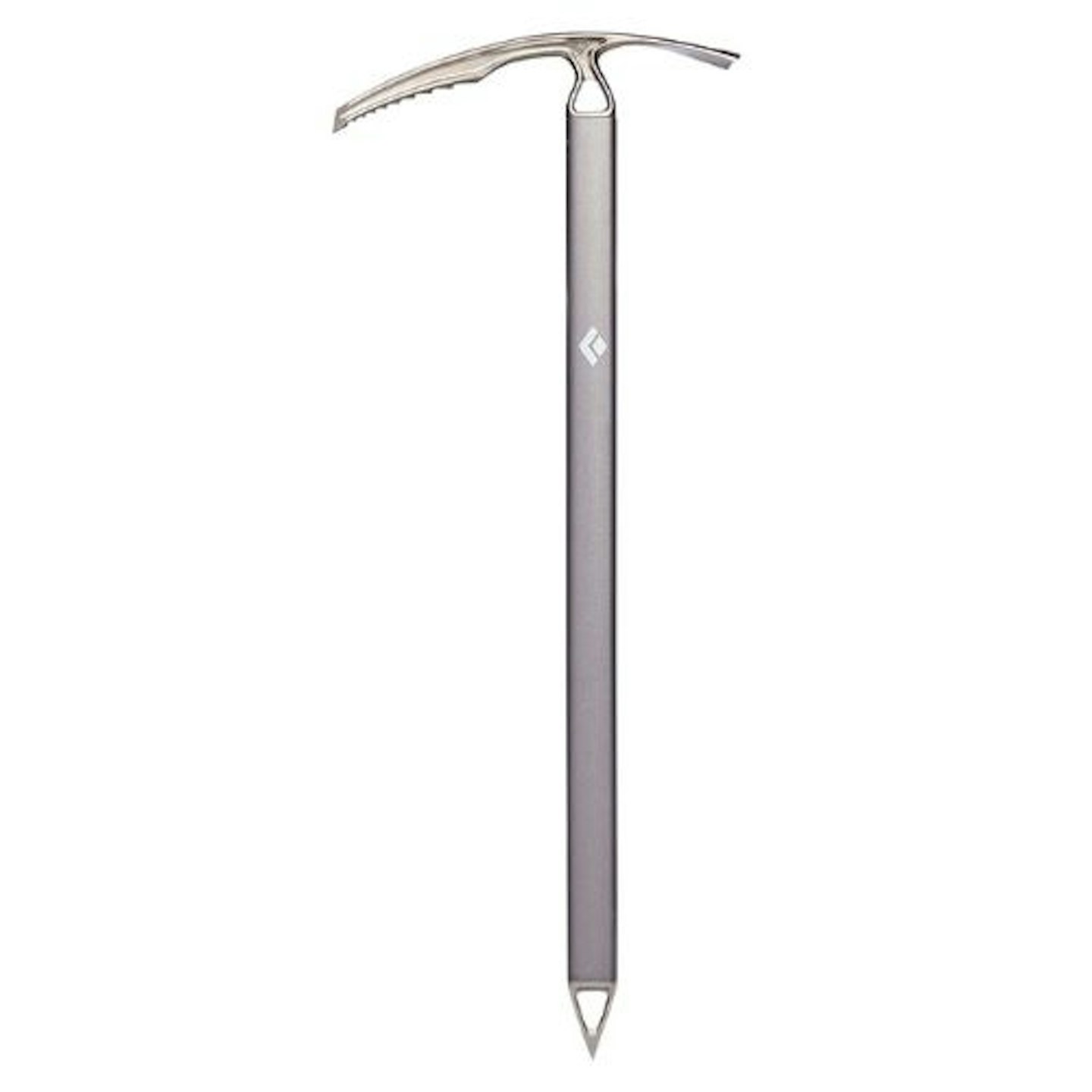 1 of 1
Black Diamond Raven
Pros: Wide size range, excellent pick and adze, high quality design
Cons: Expensive, no wrist leash included
With a sleek, beautiful look, this ice axe from the alpine gear boffins at Black Diamond is excellent. It's sturdy, has good features, and is a proven design. The Raven has been used on expeditions across the world.
The axe head is made from a single piece of stainless steel. To aid comfort, the Raven has an ergonomic approach and has a large hole suitable for a carabiner. The pick is sharp and the adze geometry aggressive, engineered for "secure placements and efficient chopping". Meanwhile the steel spike at the base delivers "better bite and improved plunge-ability".
By having serrated teeth and a curved pick, this axe makes self-arresting easier. And the high grade aluminium straight shaft with a trapezoidal cross-section enhances grip. For an ice axe with no wrist leash or axe head cover grip, the price seems a touch on the expensive side. But ultimately the high quality craftsmanship and excellent design warrant the cost.
Black Diamond's Raven Pro versions suits accomplished winter mountaineers better. It features a slightly curved aluminium shaft and ideal for steeper, more technical ground.
Verdict: A classic walking ice axe from a brand known for its alpine expertise – but it's a tad pricey and no wrist leash.
Features 4/5 | Comfort 4/5 | Lightness 4/5 | Performance 4/5 | Value 4/5
Overall score: 80%
Lengths 55cm, 60cm, 65cm, 70cm, 75cm, 80cm, 90cm | Weight 462g (65cm) | Strength rating 1/B-rated | Wrist leash included? No
C.A.M.P Neve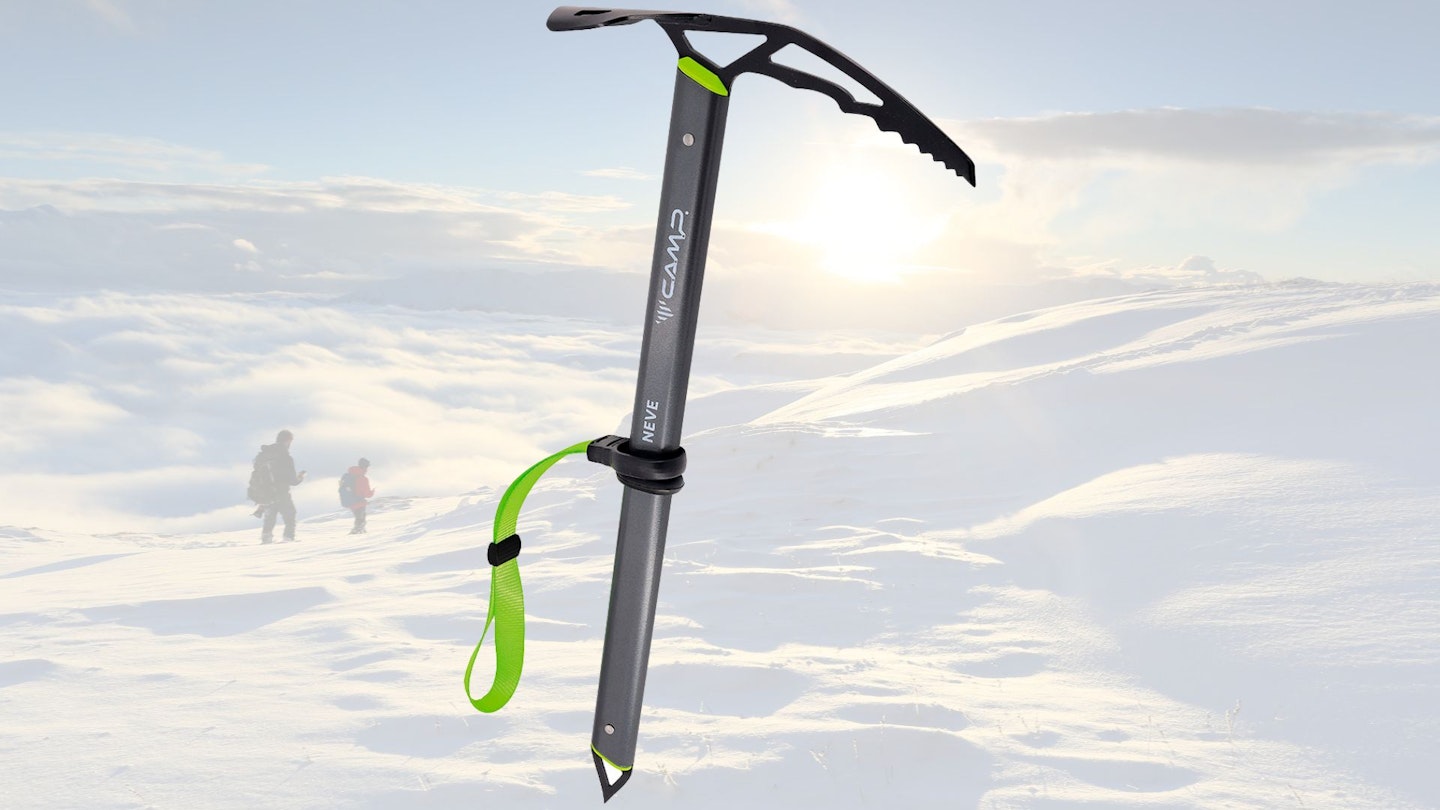 1 of 1
C.A.M.P Neve 
Pros: Fair price, solid performance, good adze
Cons: Heaviest axe on test
The Neve from Italian brand C.A.M.P (which stands for Costruzione Articoli Montagna Premana') is a reliable ice axe for hillwalking, entry-level mountaineering and glacier travel. It has impressive all-round performance considering the excellent price.
The axe head consists of a single piece of forged chromoly steel. It also has an ergonomic shape to deliver secure grip and comfort. By featuring serrated teeth and a positive downward curve, C.A.M.P has created an axe with "solid anchoring in hard snow and a high level of control during self-arrest", as C.A.M.P itself puts it.
The shape and size of the adze is for "optimal chopping performance" and the steel spike at the base is sharp enough to plunge into ice and snow cleanly. Both the head and spike have holes for use with a carabiner, and C.A.M.P's adjustable touring leash – a simple sliding wrist leash which does its job fine – is also provided without additional cost.
The weight of 524g for the 65cm version is the heaviest on test and this may split opinions. Some will prefer a lighter version that's easier to carry, while others may find reassurance in the added stability, security and performance a heftier piolet can offer.
Verdict: A classic hillwalking ice axe with very respectable all-round performance – but it's heavier than other products.
Features 4/5 | Comfort 4/5 | Lightness 3/5 | Performance 4/5 | Value 5/5
Overall score: 80%
Lengths 50cm, 57cm, 65cm, 73cm | Weight 524g (65cm, including wrist leash) | Strength rating 1/B-rated | Wrist leash included? Yes
Climbing Technology Alpin Tour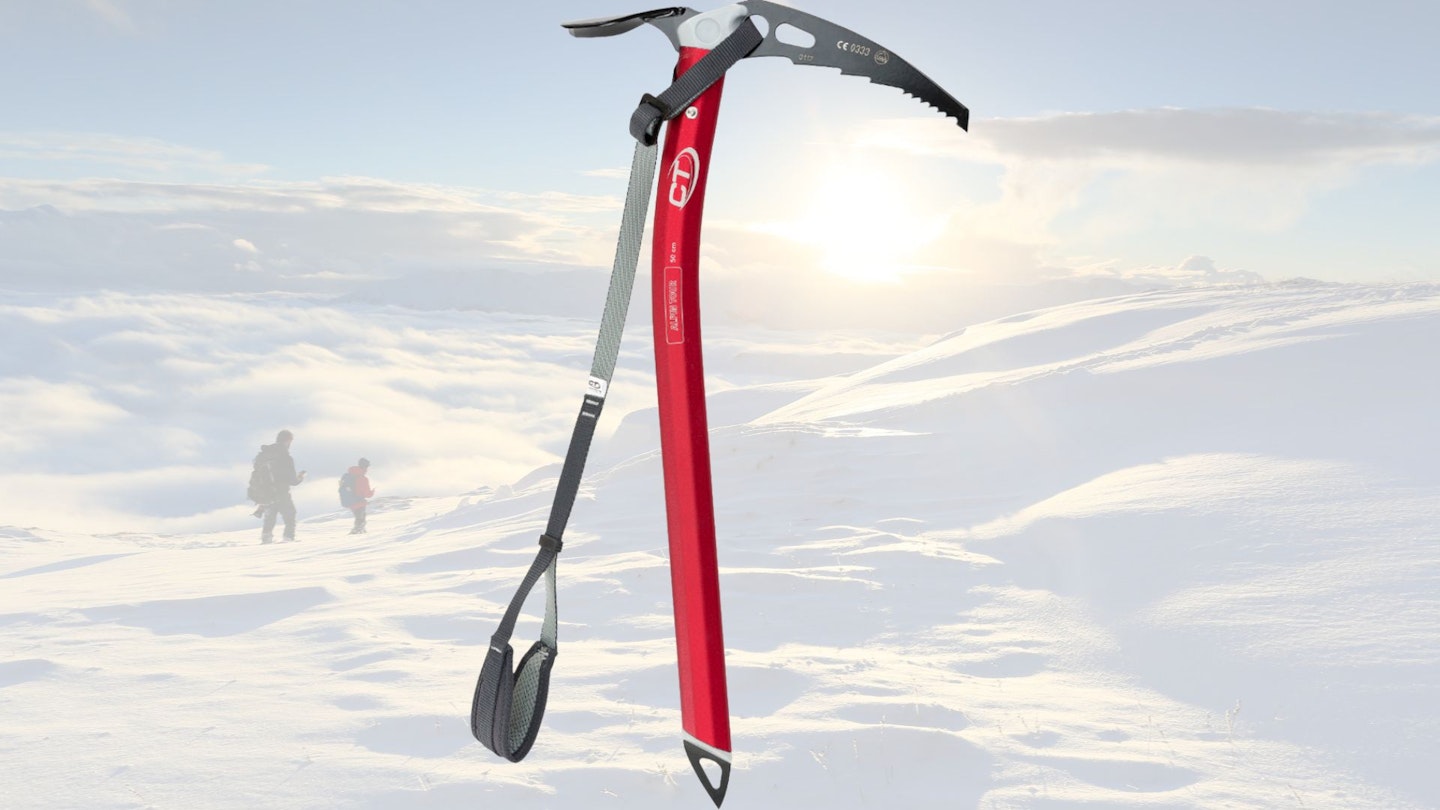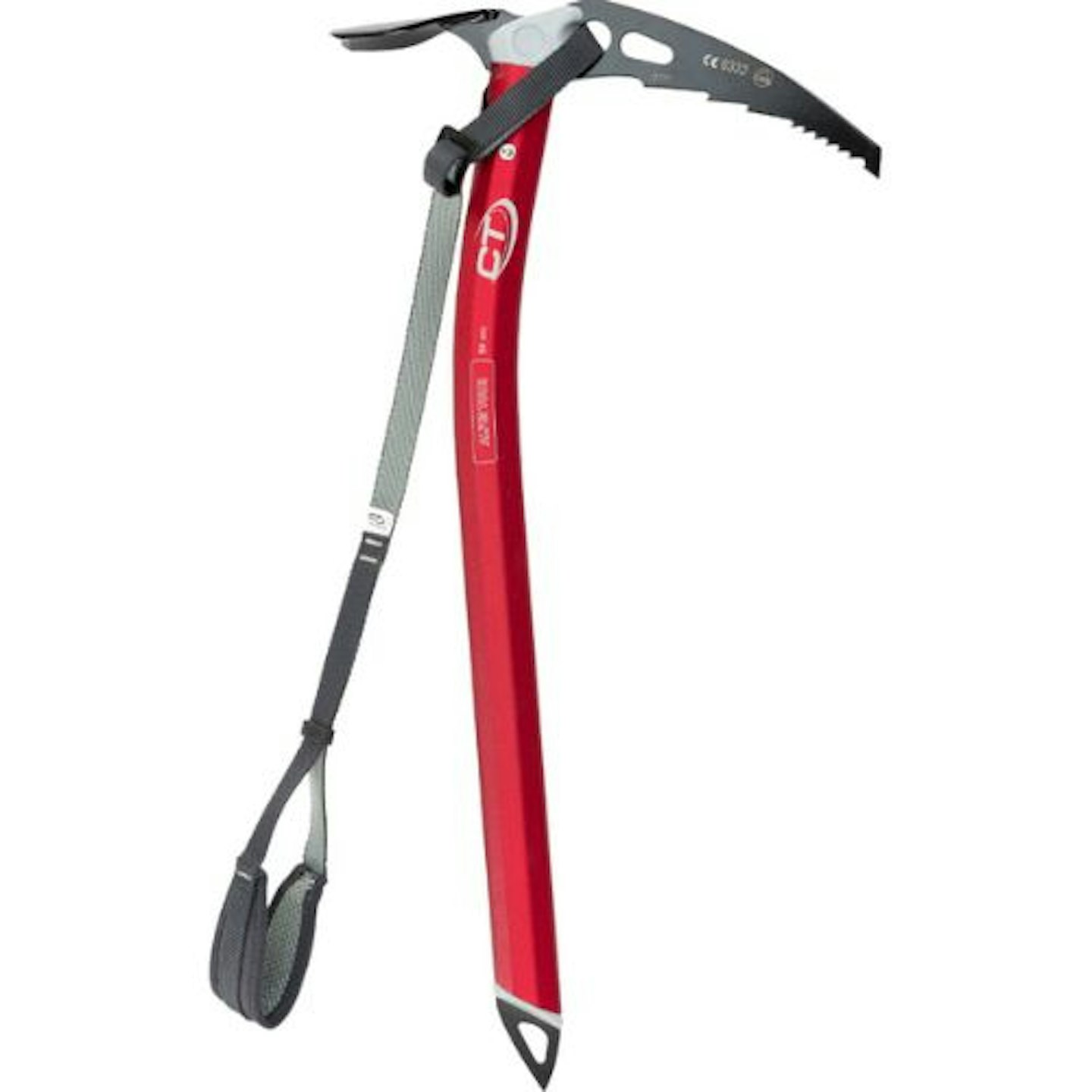 1 of 1
Climbing Technology Alpin Tour 
Pros: Superb price for T-rated axe, performance on steeper/technical ground, strong
Cons: General winter hillwalkers may prefer a straight shaft, not the comfiest carry
Billed as a "robust general walking axe" by Climbing Technology, the Alpin Tour is a gently-curved, T-rated axe at a superb price.
Its hardened steel axe head features a cataphoresis coating and the curved, tapered shaft is lightweight, anodised alloy. The curve is in the upper third of the shaft, with the lower two-thirds remaining straight, meaning the axe works competently enough in walking 'piolet mode'. Although a notch in the axe head reduces carrying comfort in the hand. The shaft is hexagonal rather than circular, which some may prefer for gripping. The sharp spike at the axe base has good penetration.
The leash features a comfortable wrist support and length adjustment buckle.
For beginners and general winter hillwalkers, this axe's technicality may be overkill and a straight shafted tool may be preferable. But for those seeking out steeper and more technical ground, the Alpin Tour is ready for the action, courtesy of a wide adze for step-cutting, aggressive down-curved pick, and gently-curved shaft for better swinging performance.
Verdict: A T-rated ice axe with good technical performance at a top price – but may be too technical for general winter hillwalking.
Features 4/5 | Comfort 3/5 | Lightness 4/5 | Performance 4/5 | Value 5/5
Overall score: 80%
Lengths 50cm, 60cm, 70cm | Weight 470g (60cm) | Strength rating 2/T-rated | Wrist leash included? Yes
Salewa Alpine-X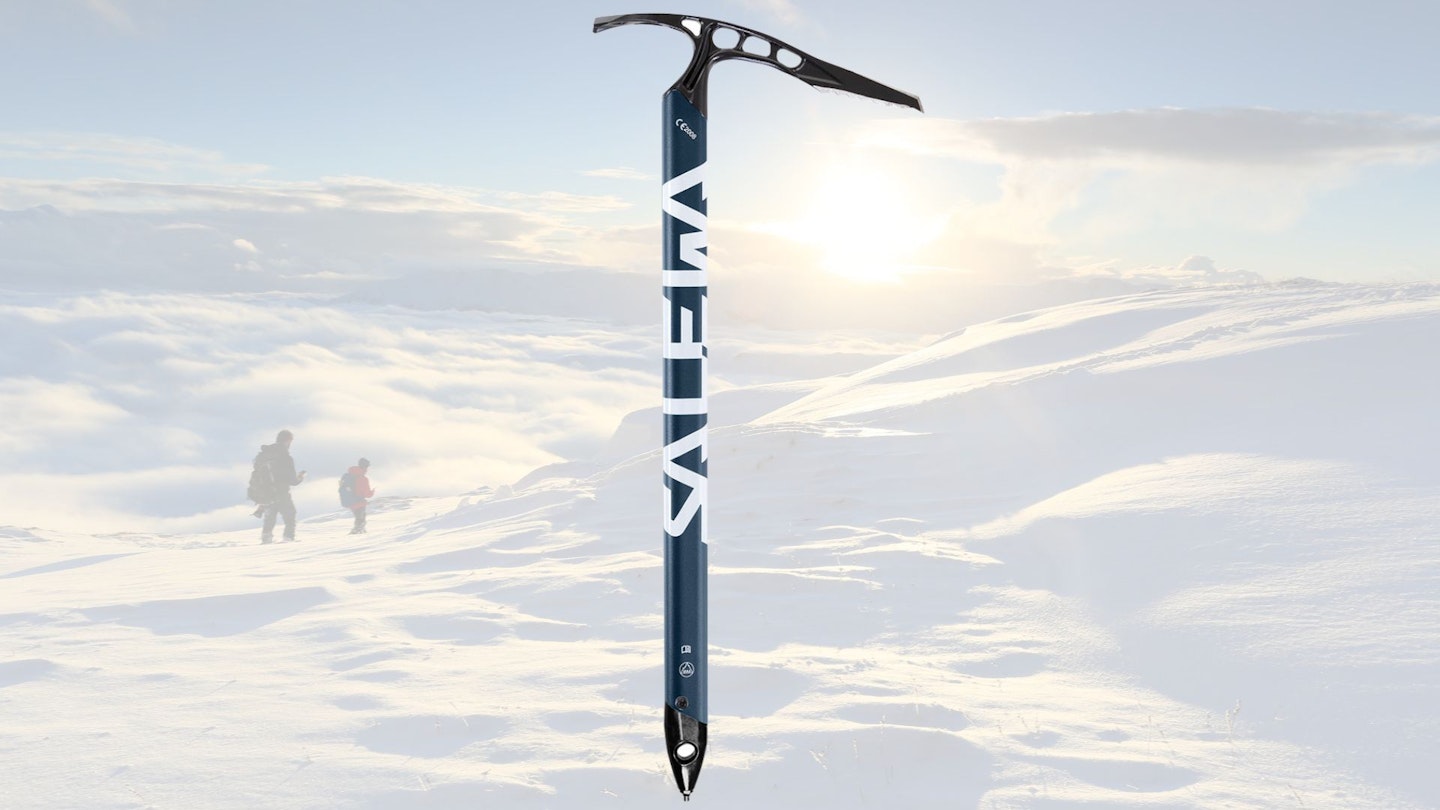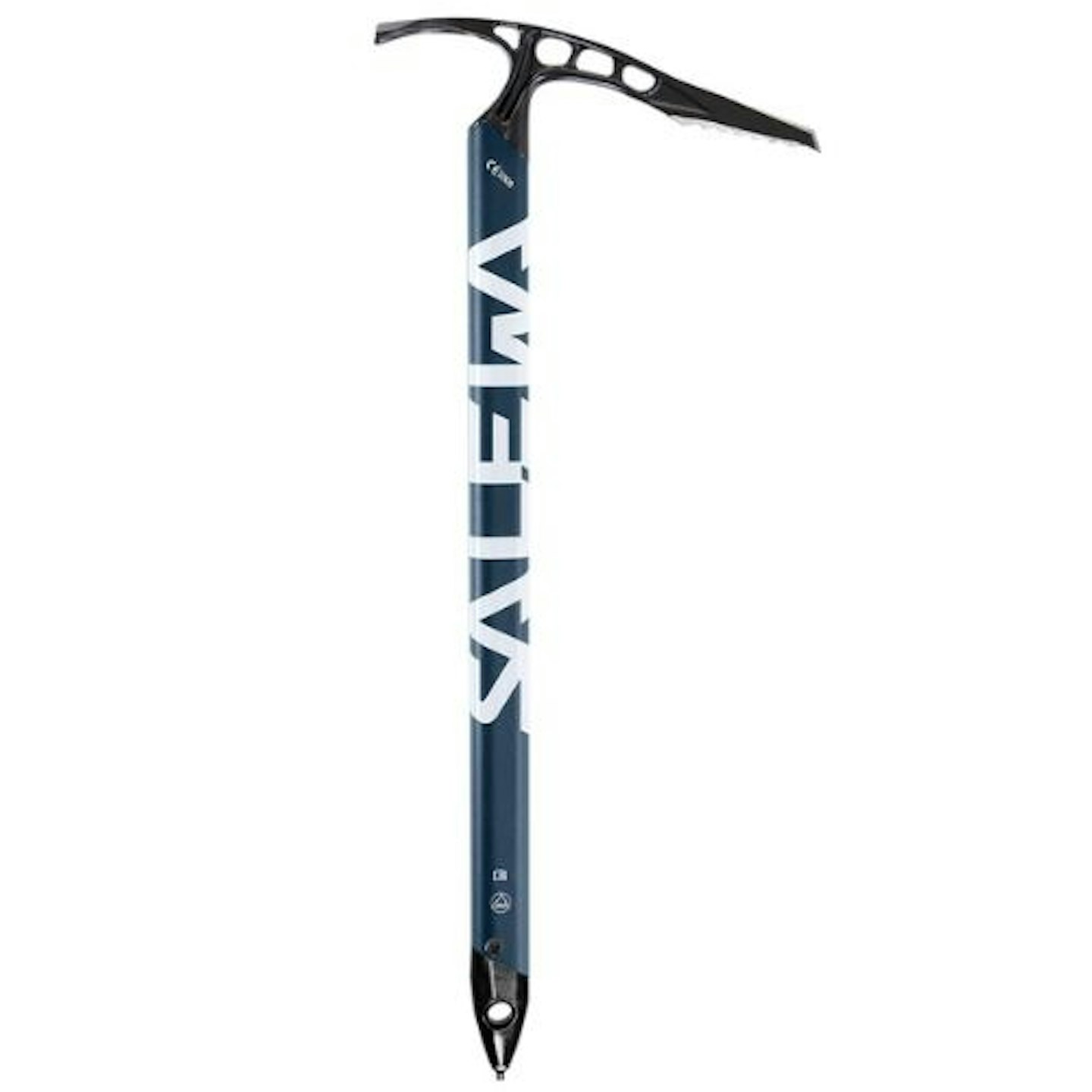 1 of 1
Salewa Alpine-X 
Pros: Ultralight, aggressive pick and adze
Cons: Overpriced, only two sizes
Salewa describes the Alpine-X as a "lightweight, hybrid ice axe for general mountaineering". It has four key features to achieve this. An ergonomically shaped, carbon steel head for a comfortable carrying experience; a strong and aggressive 3mm blade for improved grip and penetration; a sharpened adze shovel for effective step cutting and ledge chopping; and a straight, anodised and hardened 7075 aluminium shaft for "smooth plunging".
As is customary, the head and spike have cut-outs to accommodate a sling or carabiner. A wrist leash is not provided, but Salewa sells one.
The main selling point is the very aggressive head, which can tackle ice and snow competently. The adze has a hooked spade and the pick has a sharpened blade and serrated teeth for enhanced traction. Consequently, the Alpine-X is capable on steeper and more technical ground. But for beginners and those wanting a tool suitable for practicing ice axe arrests, this is perhaps too aggressive.
Verdict: A competent ice axe with a particularly aggressive pick – but it's overpriced.
Features 4/5 | Comfort 4/5 | Lightness 5/5 | Performance 4/5 | Value 2/5
Overall score: 76%
Lengths 53cm, 65cm | Weight 375g (65cm) | Strength rating 1/B-rated | Wrist leash included? No
Get half-price digital OS Maps. Trail and Country Walking magazine members get 50% off an annual subscription to OS Maps for 12 months. Find out more here.
Don't forget to subscribe to the Live For The Outdoors newsletter to get expert advice and outdoor inspiration delivered to you inbox!