COULD THIS WORLD-FIRST HEAT-MOULDED WALKING BOOT BE FIT PERFECTION?
Upper Choice of Nubuck leather or synthetic (Forge S) – both with Gore-Tex lining
Sole Vibram Megagrip compound
Men's 6-13.5
Women's 3.5-8.5
Weight 1012g (pair size 6.5)
Imagine designing your ideal boot. Most importantly it would be moulded to fit your foot to perfection, right? Tecnica, better known in snow sport circles, has taken exactly that concept and using some interesting technologies from its ski boot design, applied them to its new high-end 3-season walking boot, the Forge.
Although these boots are anatomically moulded in men- and women-specific designs, and can be worn straight out of the box, they are only available in four selected specialist retailers, where a 20-minute customisation process takes place to personalise the boot to your foot. The Forge therefore takes a firm stride away from internet shopping, and brings footwear fitting firmly back to the boot shop.
THERMO-FORMING
My fitting of the new Forge took place at Whalley Warm and Dry in Lancashire. My last visit to Whalley was slightly disastrous in terms of my role as boot tester, as I was left never wanting to wear anything on my feet other than the specially selected boots and custom corrective insoles I was fitted with. Having had my walking comfort revolutionised by properly-fitting footwear, I had become rather evangelical about the subject. And so I was intrigued as to this new heat-moulding technology.
With feet measured in every direction, the heat moulding took place in two phases – first the insoles, then the boots themselves. Each were warmed to a set temperature, and squeezed into shape around my foot by an enormous blow-up leg cast. The procedure feels somewhere in-between a giant blood pressure test and an inflating space suit.
OUT OF THE BOX
The boots look sleek and expensive. For 3-season boots they have a rigid robust feel in the hand, with deep aggressive lugs and heel breast on the sole. The cuff of the boot is an unusual wrap-around design which sits flat against the ankle to reduce pressure points from a join with the tongue, and self-locking Kevlar lace loops replace the traditional metal hooks.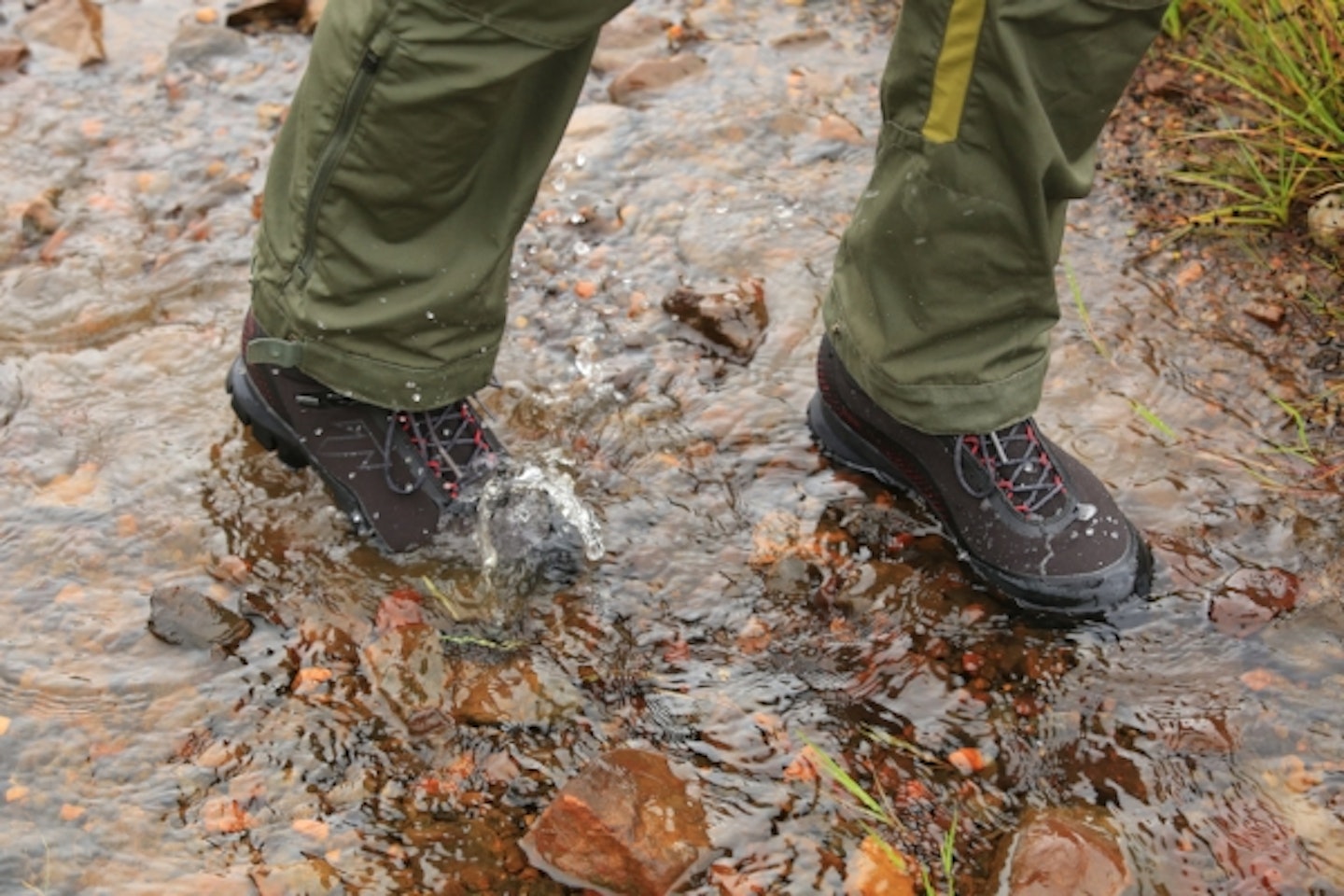 ON THE FOOT
Out on the hill they have a surprising amount of flex in the sole given how stiff they feel in the hand. Fully moulded, the boot feels super snug around the foot, and the insole has robust arch support. This makes the boot feel ultra-supportive on uneven ground. A slight hotspot on my ankle was easily stretched out by Whalley's boot fitter, making the boots comfortable to walk in for long periods of time. On first test, the lightness, the flexibility, the comfort and the grippiness of the sole combined to make this boot a hot contender for a permanent place on my shoe rack and a first choice for 3-season walking.
There are limitations though... The 'thermo-formable' material is limited to the areas around the footbed, heel, ankle and arch. While that sounds extensive with the adjustability of lacing at the forefoot, my flat-as-a-pancake feet meant that there was still a little more room around the top than the boot fitter would have liked. Also, while the footbed is fantastically supportive and fits my foot like a glove, it is not corrective. So if like me you have a few niggles that require a custom footbed, you may find that you still need to wear those in the Forge.
Finally, boots mould to your feet as you wear them, so what the Forge basically provides is a fit straight out of the box that would usually take many months to wear in. If the boot is not suitable for your foot shape to begin with, these will not be the boots for you.
The great thing about the Forge is that their customisation allows them to fit a wider range of foot shapes perfectly. It also entices you into a specialist boot fitting store in the first place – who will ensure you get the best boot for your buck.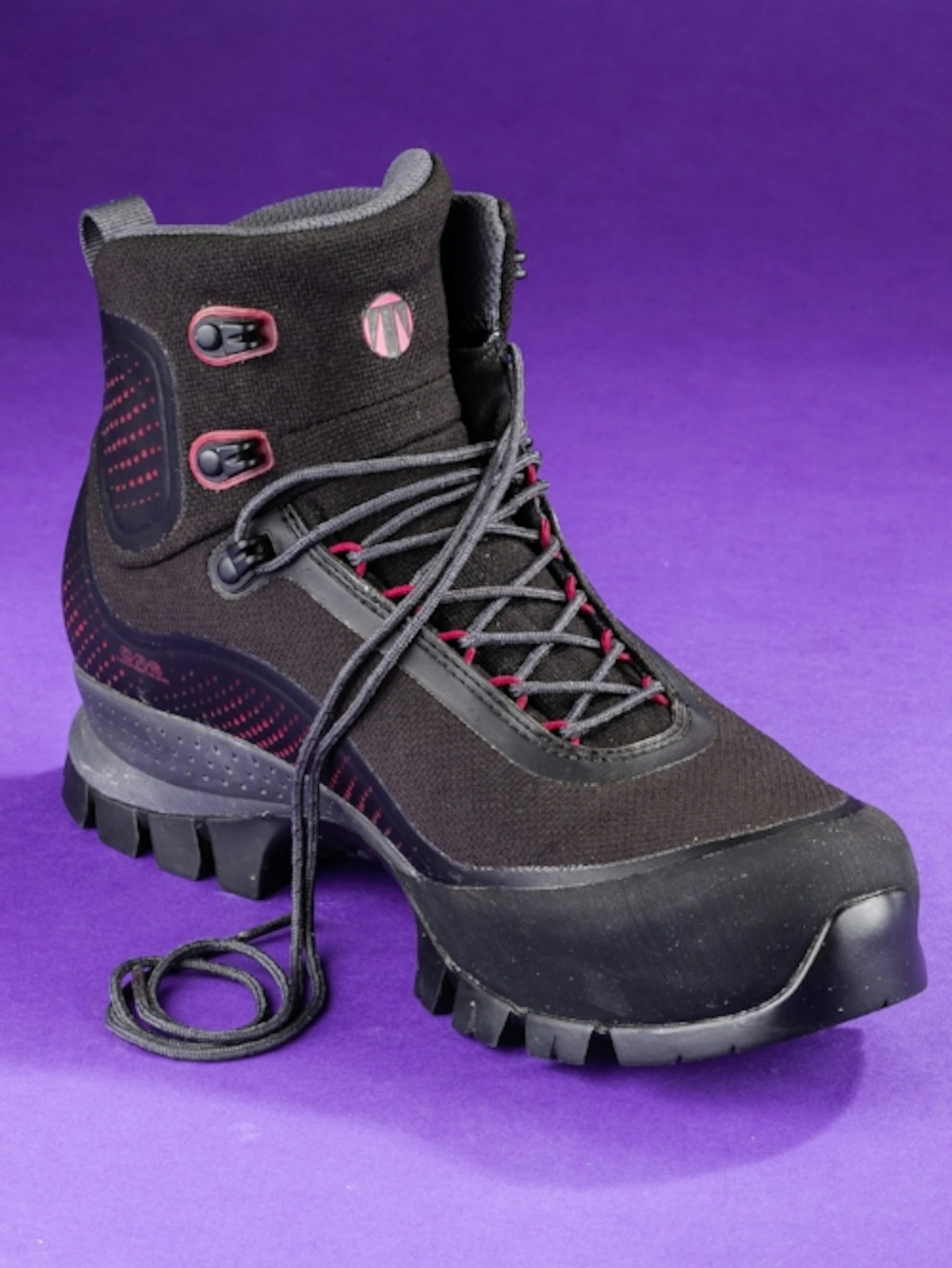 VERDICT
For the hefty price tag you get a quality, lightweight boot that's great for 3-season walking. But the main benefit here is the expertise you will receive from a professional boot fitter, who will ensure the boot is right for you and fitted as close to perfection as is possible.
Features 5/5
Fit 4.5/5
Comfort 4.5/5
In use 5/5
Value for money 4/5
OVERALL SCORE 92%
Selected retailers:
ProFeet, London
Tiso, Edinburgh, Perth and Glasgow
Taunton Leisure, Devon
Whalley Warm & Dry, Lancashire