Even with lots of experience and meticulous planning, things can go wrong. There's not always a lot you can do to totally prevent that. However, when it comes to exploring winter mountains, there's plenty you can do to minimise the chances of plans going awry.
Many of these involve eradicating simple errors that will ruin a day out. With the help of the experts at Trekitt we've compiled 10 of the most common mistakes that hikers make in winter, with the aim of helping you to avoid making them yourself.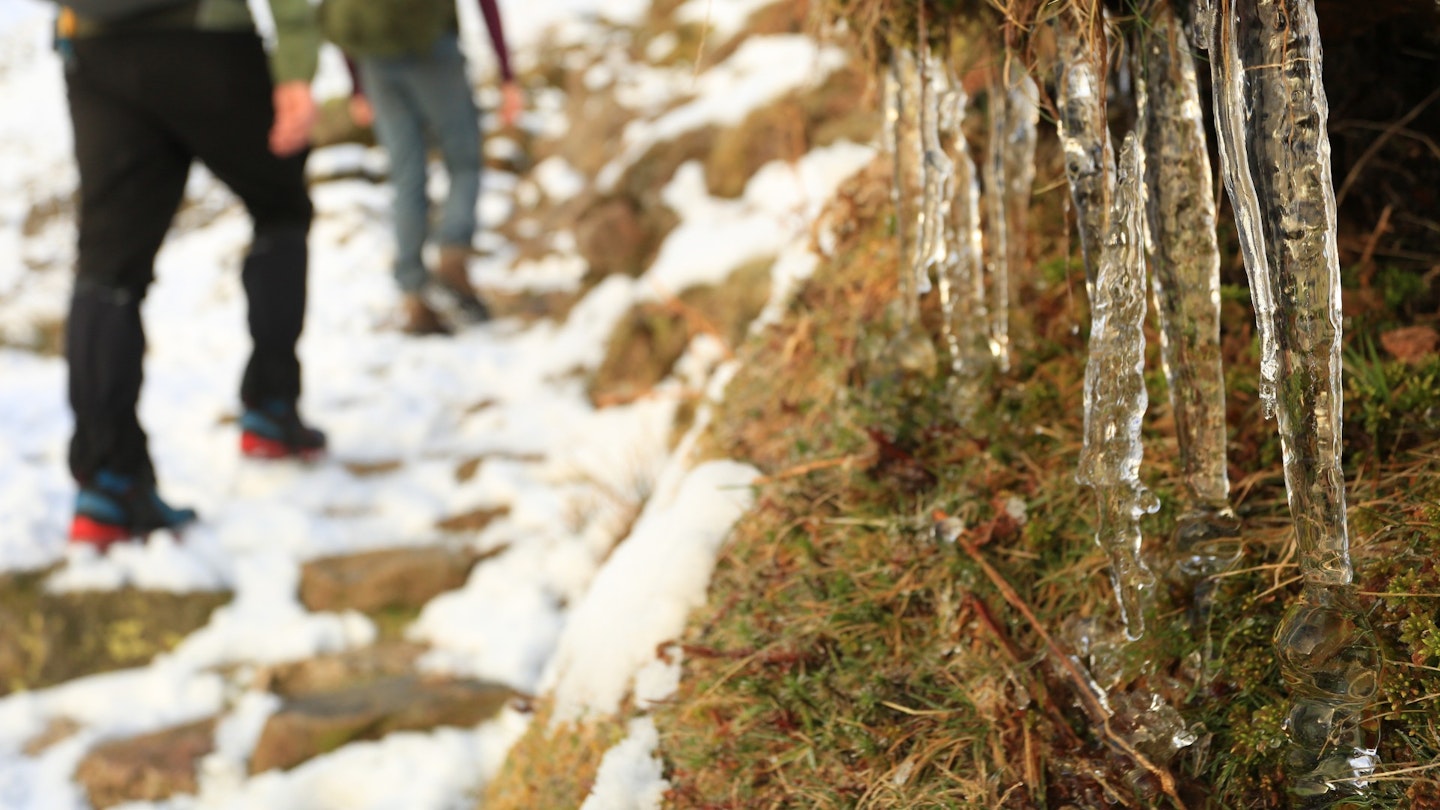 1. Too many layers
'Be bold, start cold' is a famous mountaineering saying. It might be freezing when you get out of the car, but as soon as you head uphill, you'll start getting hot. Which means sweat, and in winter sweat is your enemy. So start your hike on the cold side of comfortable, and adjust your layers as you go.
2. Losing kit
You stop to adjust your crampons, removing your gloves, and putting them onto the ground. A sudden gust whips them away and sends them into the abyss. Avoid placing anything on the ground where possible, and if you must, be sure it's secure.
3. Running out of daylight
Winter days are shorter and winter routes take longer. Bear both in mind when planning days out to avoid being stuck on the hill after dark. And always take at least one headtorch with you – just in case.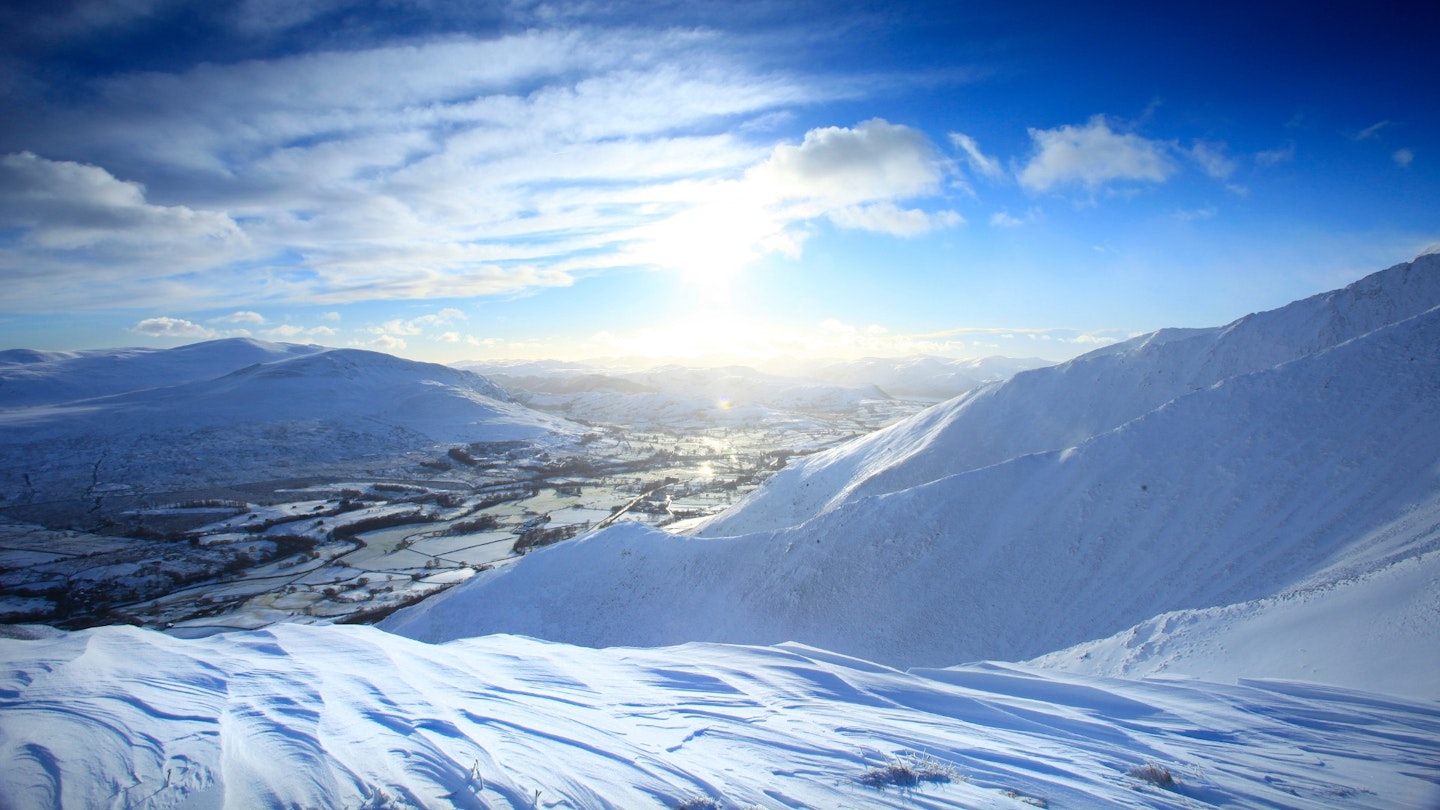 4. Not enough food
Your body uses more energy to stay warm in winter, so it needs more fuel. Take more food than you would in summer and keep some in a pocket you can reach without removing gloves. Staying hydrated is also important. Remember, uninsulated bottles and bladders can freeze if not protected deep inside your pack.
5. Dead batteries
The cold is a battery killer. If you're using your phone to navigate and take photos, you'll find the battery runs down even faster in winter. Carrying spare batteries for electronics or a portable power bank are good ways to make sure you have enough juice in an emergency.
6. Forgetting the sun
The sun can shine in winter. When it does you might feel like you've struck gold, but unless you've packed sunscreen and sunglasses you could be in for trouble. Snow reflects up to 90% of the sun's UV radiation, which can lead to nasty sunburn and snow blindness – essentially sunburn of the retina. Carrying sunglasses or goggles in your pack, and oil-based sunscreen (water-based can freeze) is key if the sun is forecast to make an extended appearance.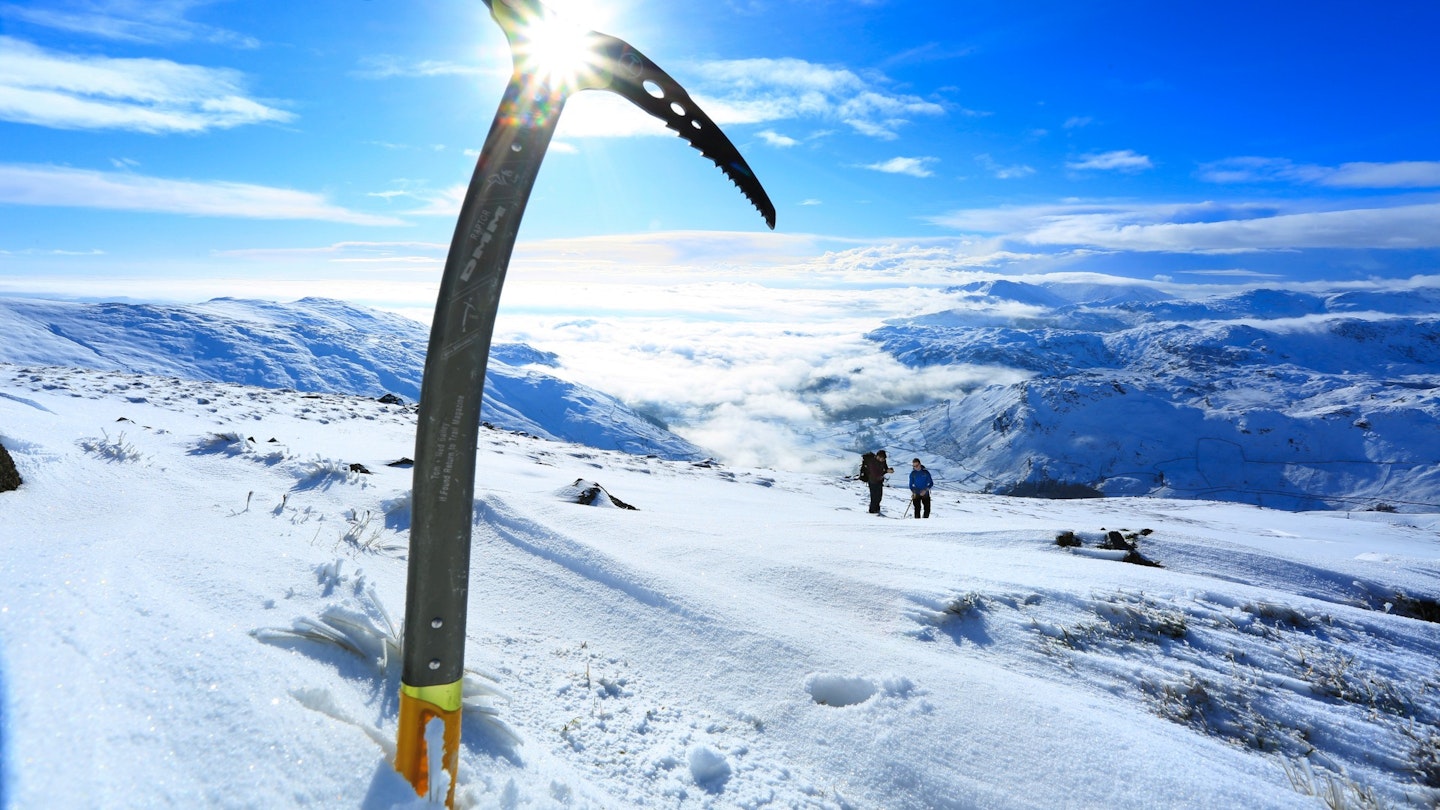 7. Putting crampons on too late
Unless it's an incredibly cold winter, you're unlikely to need crampons on straight out of the car. But by the time you're on steep, ice-coated terrain where you really need them, it's too late to put them on safely. Try to anticipate the terrain and conditions ahead and stop to put crampons on where it's suitably safe.
8. No plan B
Although often touted as sound advice, 'make a plan a stick to it' isn't always the best way. Continuing with your planned route when conditions are worse than anticipated is a daft idea. So while making a plan is indeed sensible, be prepared to alter or abandon it depending on how your day unfolds. Better still, have back-up plans that you can slot into place if Plan A is unworkable.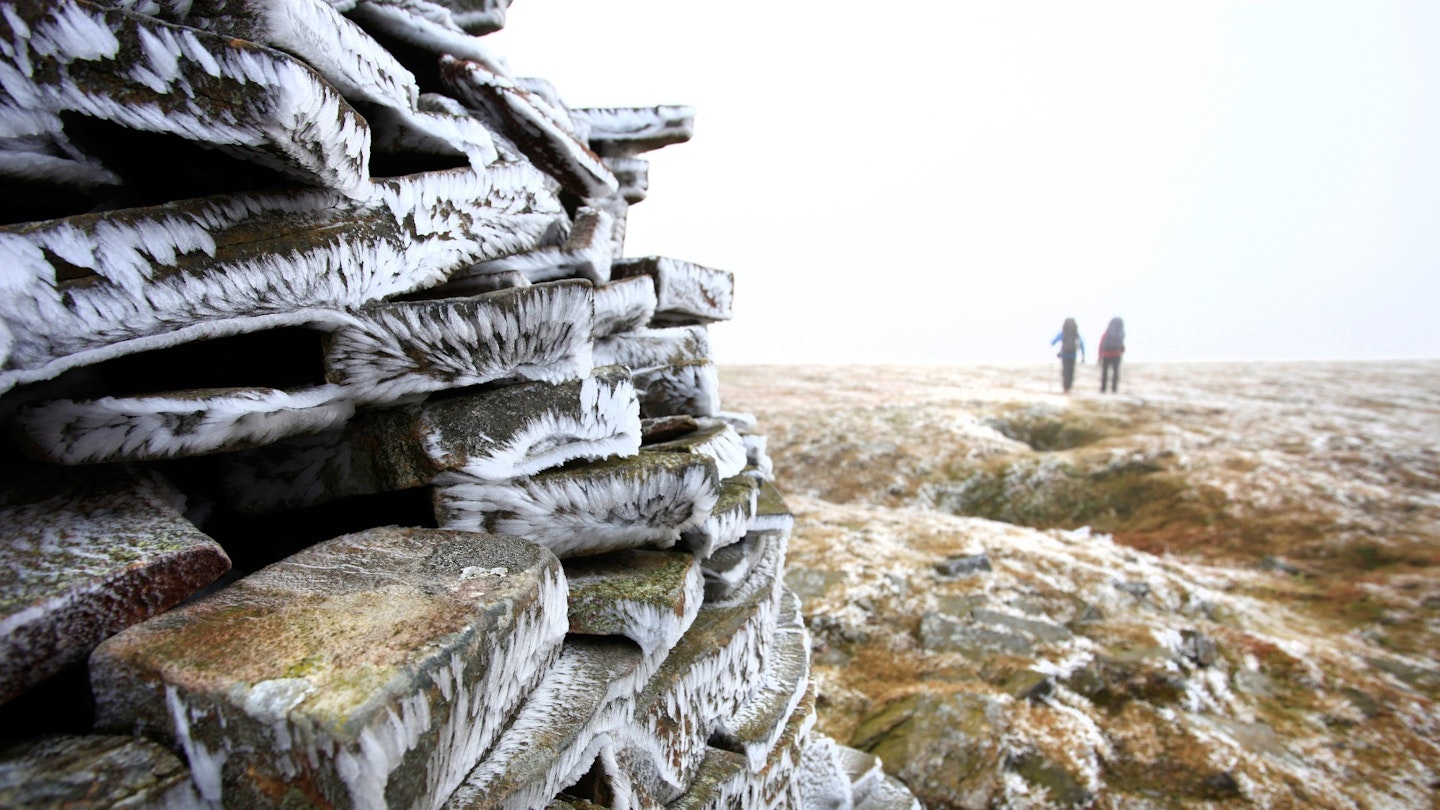 9. Following crowds
There are footprints leading across the snow in front of you. And if you look up ahead, you can see the people that made them. So it must be safe for you, right? Wrong. Yours could be the footstep that triggers the avalanche, or collapses the snow bridge, or breaks through the cornice. Always make decisions based on your own assessment of the surroundings, and never be lulled into a false sense of security by what others are doing.
10. Complacency
Just because you've been on a winter skills course and know how to perform an ice axe arrest doesn't make you safe. In fact, no amount of winter mountain experience makes you invulnerable. Always stay focused, practice your skills, and remember that the mountains are bigger and badder than you.
Cold weather kit
This winter, we're teaming up with Trekitt to bring you tips on kitting yourself out for hillwalking in all weathers. Trekitt's in-house experts pick out key bits of gear to either wear or carry in your pack. Plus some practical advice on how to prepare better and dress smarter on walks.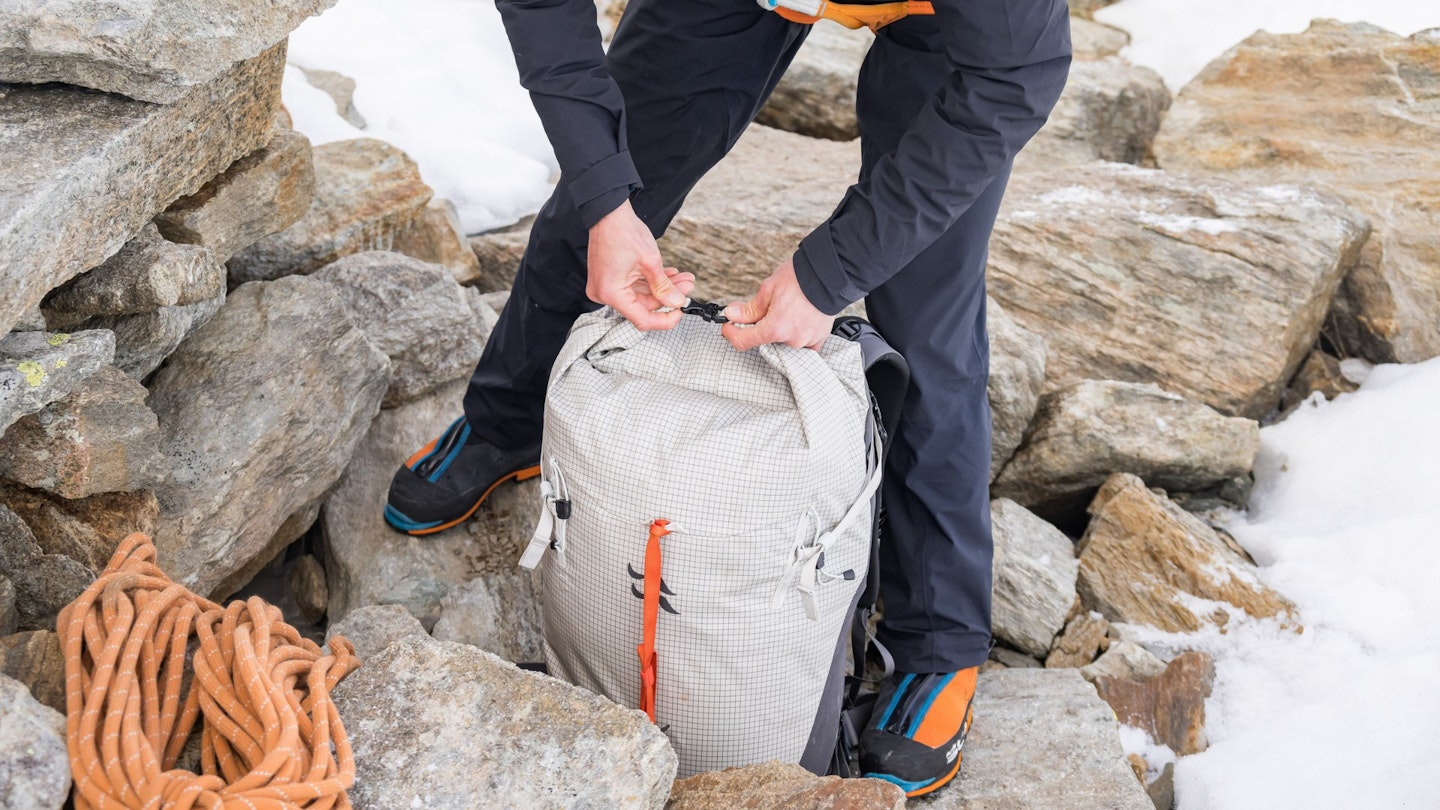 Trekitt tip: "Hypothermia can occur in harsh winter conditions if you're not dressed correctly, and it's even more likely if you're damp. Wear moisture-wicking clothing to ensure you stay warm and dry. Layers will allow you to adjust your temperature quickly and easily while on-the-go."
Description
The Roc Blanc is a minimal Alpinist jacket designed for burly alpine expeditions and ski-touring
Description
This is a versatile performance jacket, with a balance of features that make it suitable for all
Trekitt tip: "Winter weather is unpredictable, which can be dangerous. Not packing sufficient emergency gear is one of the most common winter hiking mistakes. What if something happens and you end up staying out longer than expected? Ensure you have extra clothes, food and water. Carry a small emergency shelter, and a ferro rod or waterproof matches. These items could just save your life."
Description
Designed for high mountain use, the Clifdens feature Oakley's Prizm technology to provide a
Description
Thanks to its 10,000mAh capacity, this power bank can charge the average smartphone battery 2.5
Trekitt tip: "Make sure you do your research on current conditions and, if applicable, if any avalanche warnings are in place. Just because a trail is safe in the summer, does not mean it's safe in winter."
Description
The Spot 400-R is a small yet technical headlamp, perfect for climbing tricky routes after hours.
Description
Designed with Alpinism in mind, the Latok 38 is ideal for extensive climbing missions, winter
Description
The Rambler from Yeti could quite possibly be the perfect outdoor flask. It is double-wall vacuum
Trekitt tip: "If you use a water reservoir while winter hiking, the water inside the hose can freeze in cold temperatures. Once frozen, it's challenging to thaw out on your hike. To help prevent this, simply blow air back through your hose after every sip so there's no water inside to freeze. Or even simpler, use an insulated bottle!"
Don't forget to subscribe to the Live For The Outdoors newsletter to get expert advice and outdoor inspiration delivered to you inbox.
For the latest reviews - including extra photos and kit that won't appear online - pick up a copy of the current issue of Trail magazine.