Family camping trips can be the stuff that memories – and sometimes dreams – are made of. Walking in the countryside, playing in the open air, climbing trees, skipping through streams, and falling asleep to the gentle rustle of wind or the pitter-patter of a night-time rain shower as you drift off in the snuggly comfort of your sleeping bag. Ahh, bliss.
However, there's another side that can spoil things. Tripping over each other in a cramped living space, worrying that regardless of how well pitched it is the tent will succumb to the weather, and the kids being woken at 5am in the morning when the first rays of dawn illuminate the entire tent like a beacon. Yes, family camping can have its challenges.
Galloping, or more accurately, inflating to the rescue is Coleman's Weathermaster 8XL Air BlackOut Tent. All those niggles mentioned above? Coleman have them covered. What's more, pick up a Weathermaster Air tent from a participating retailer and you'll get a free Camping and Caravanning Club membership worth £48 included, opening up a world of superb camping experiences.
So let's unzip the doors and step inside to discover what the award winning Weathermaster 8XL has to offer...
Six things you need to know about the Coleman Weathermaster 8 XL Air BlackOut Tent
Loads of space
The expansive Weathermaster 8 XL Air BlackOut provides the ultimate in comfort and convenience. The XXL Bedrooms are designed to be more spacious than the average tent bedroom and will comfortably accommodate Coleman's larger double air beds. The extra-large living space and enclosed front porch offer plenty of space to make your camping trip more enjoyable.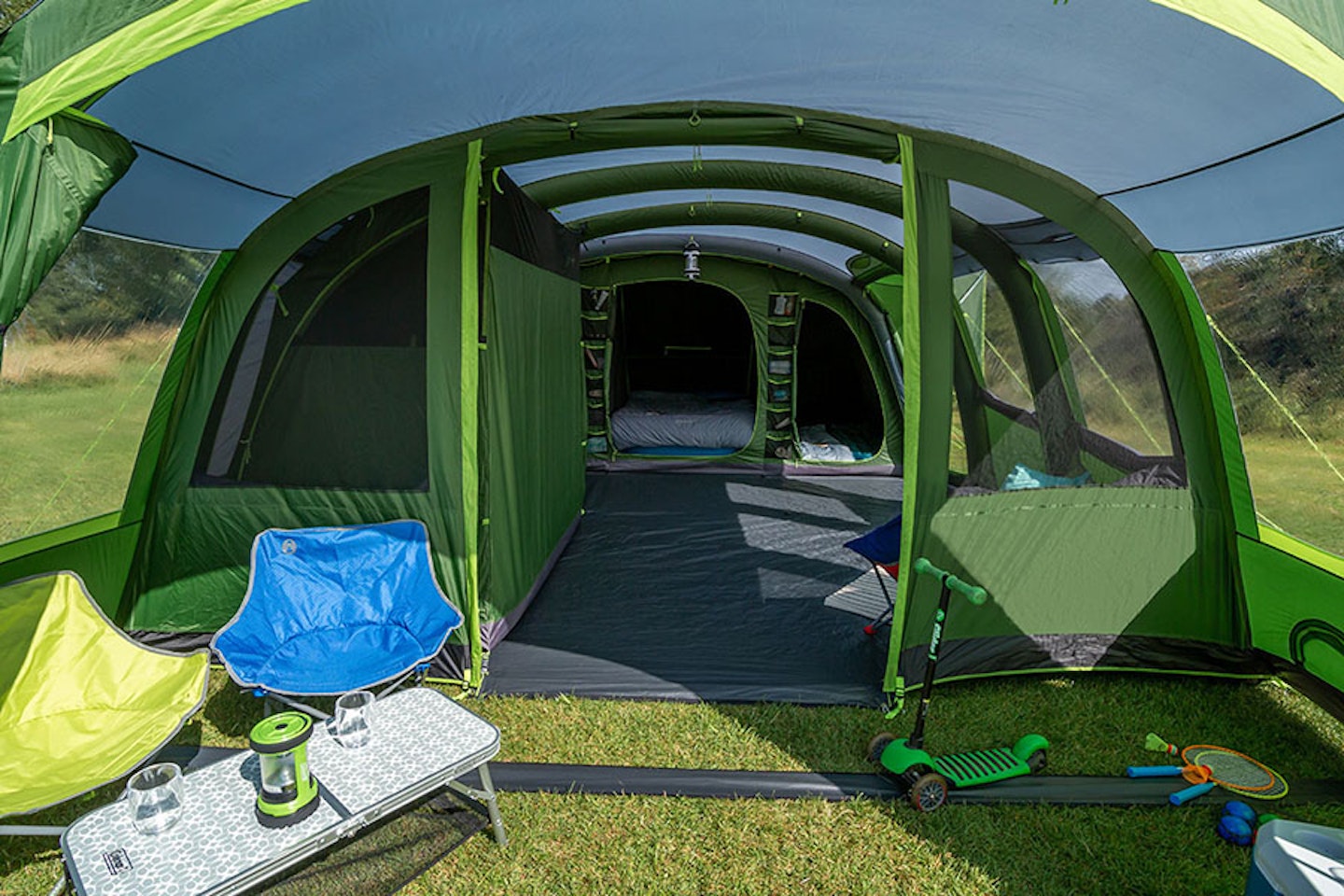 Enjoy your morning lie-ins
The XXL bedrooms feature Coleman's BlackOut Bedroom technology, which stops 99% of light from entering the sleeping area so that you can sleep-in even when the sun has come up. This revolutionary sleep system is ideal for children or anyone who is sensitive to daylight, helping you get a longer and more restful sleep. Bedrooms also include zipped dividers, providing privacy and flexible sleeping arrangements and there is one removable bedroom which allows you to increase your living space as required.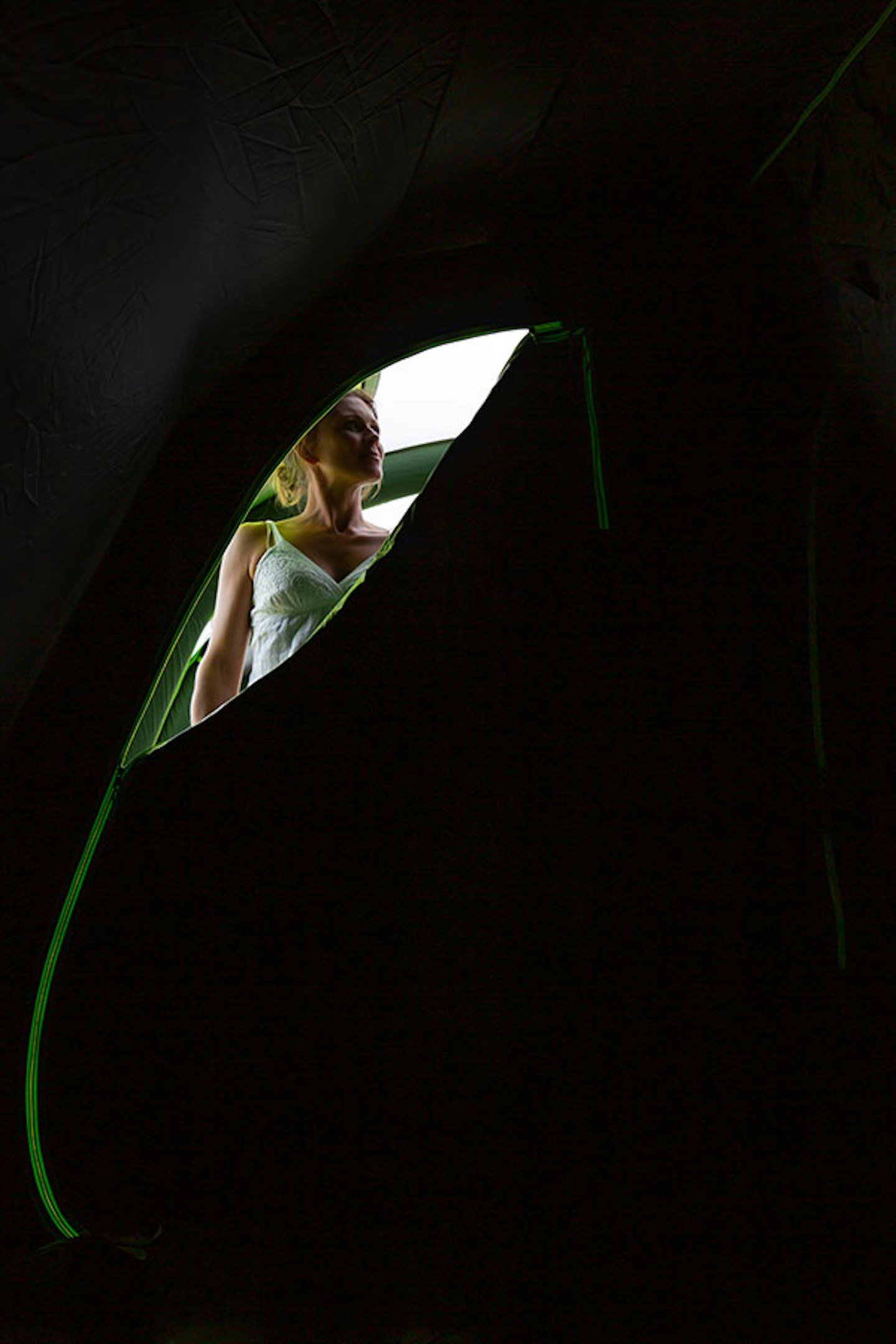 Easy, secure pitching
FastPitch Air technology enables swift pitching, even by a single person if required, and the inflatable poles and four storm straps ensure the structure remains secure even in high winds.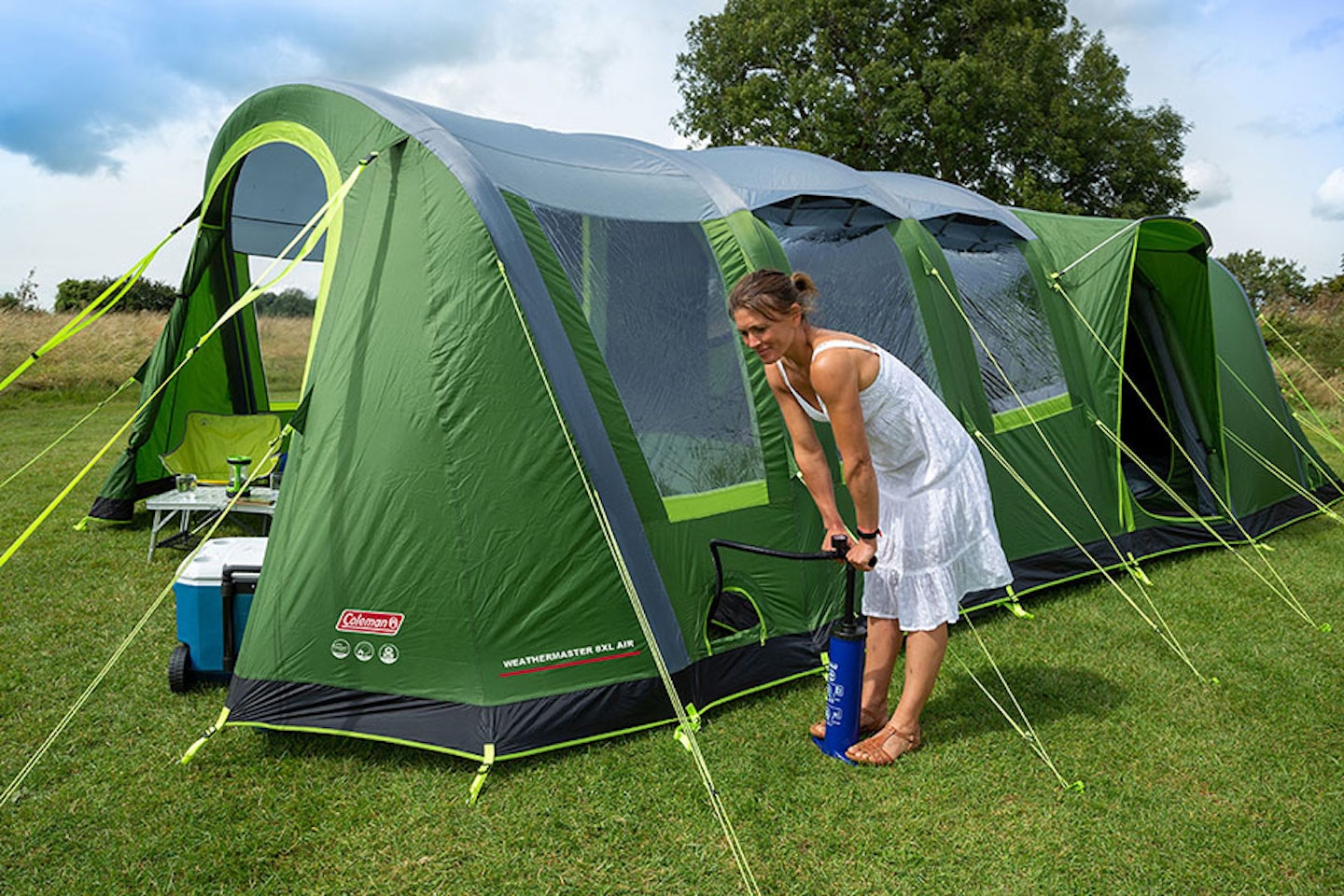 Easy access (but not for bugs or the weather)
Barrier-free access helps to prevent tripping when moving in and out of the tent. Tent doors also feature Zipper stoppers which make it easier to find the zip-pulls, helping you to get into the tent quickly if a sudden downpour has just unleashed, or let yourself out of the tent in a hurry if needed. The 4,500mm hydrostatic head ensures excellent weather protection, while the sewn-in PE groundsheet keeps water and bugs out.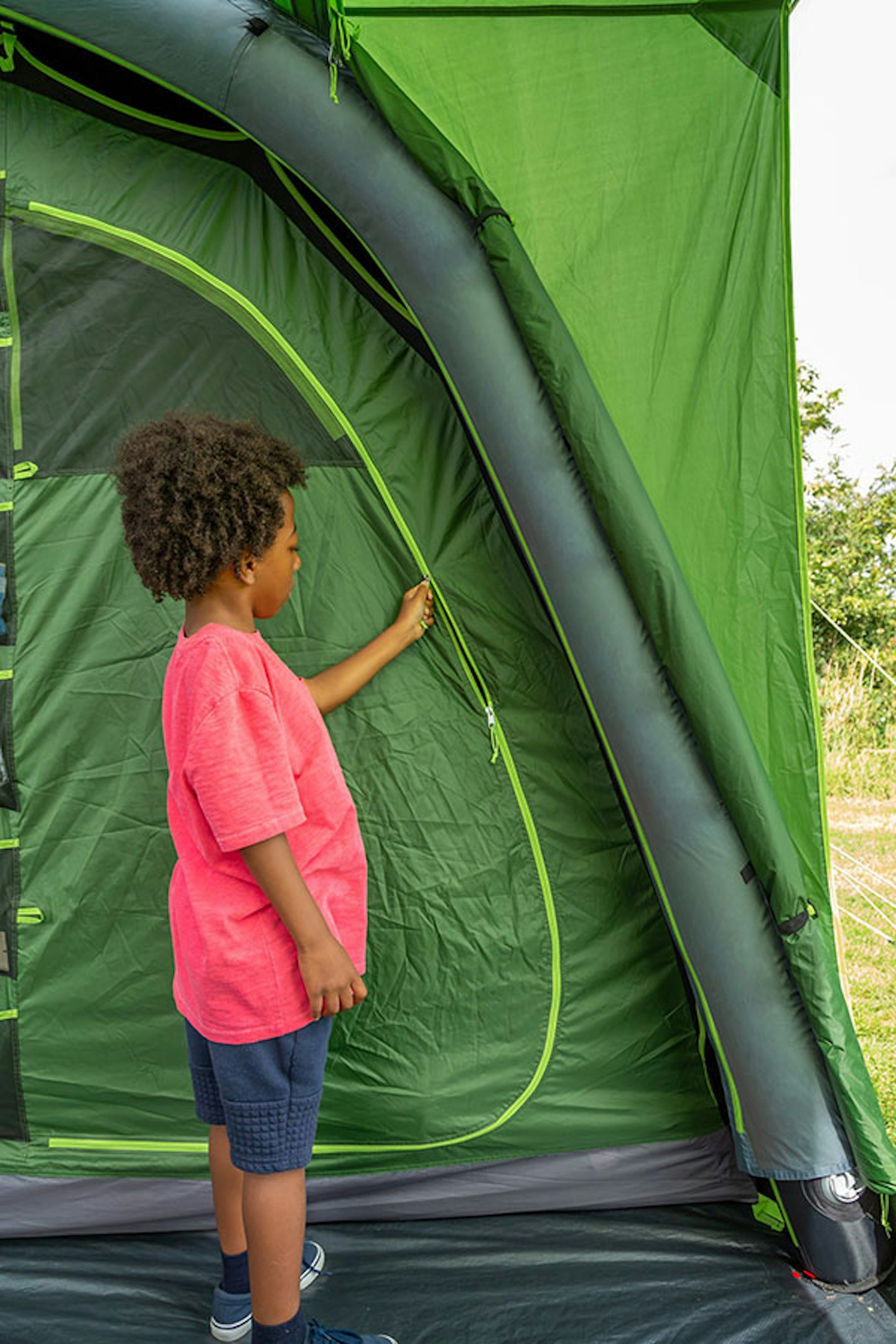 Home comforts
Multiple cable entries and lantern attachment rings allow you to set up all the lights and appliances you need for a comfortable stay. Additional model-specific groundsheet footprints and carpets are available separately to further enhance camping comfort.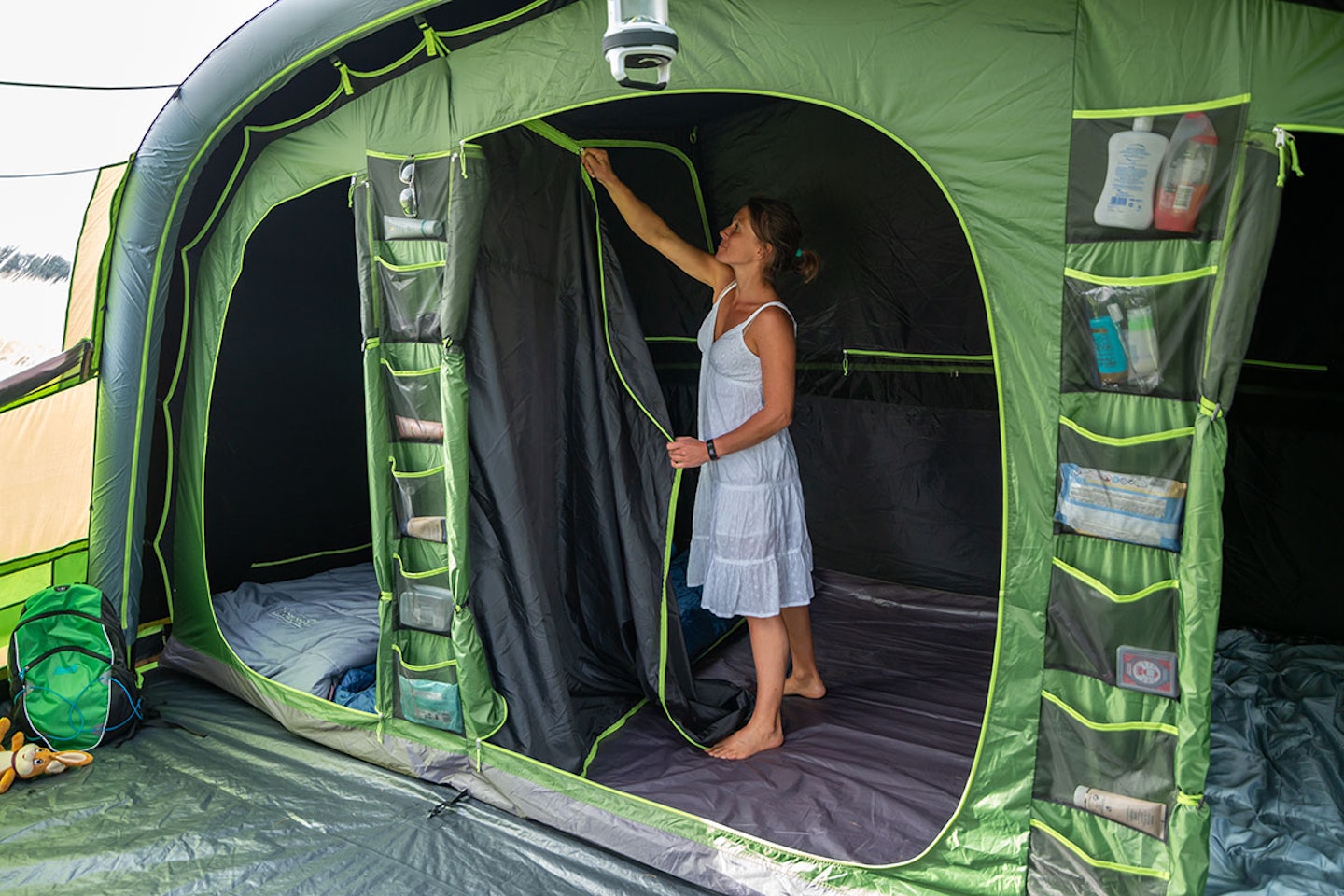 Climate control (almost)
Adjustable ventilation can be accessed from inside the bedrooms, helping to prevent condensation and allowing you to manage the internal temperature. The tent's flysheet includes UV Guard, providing SPF50 protection from the sun's harmful rays.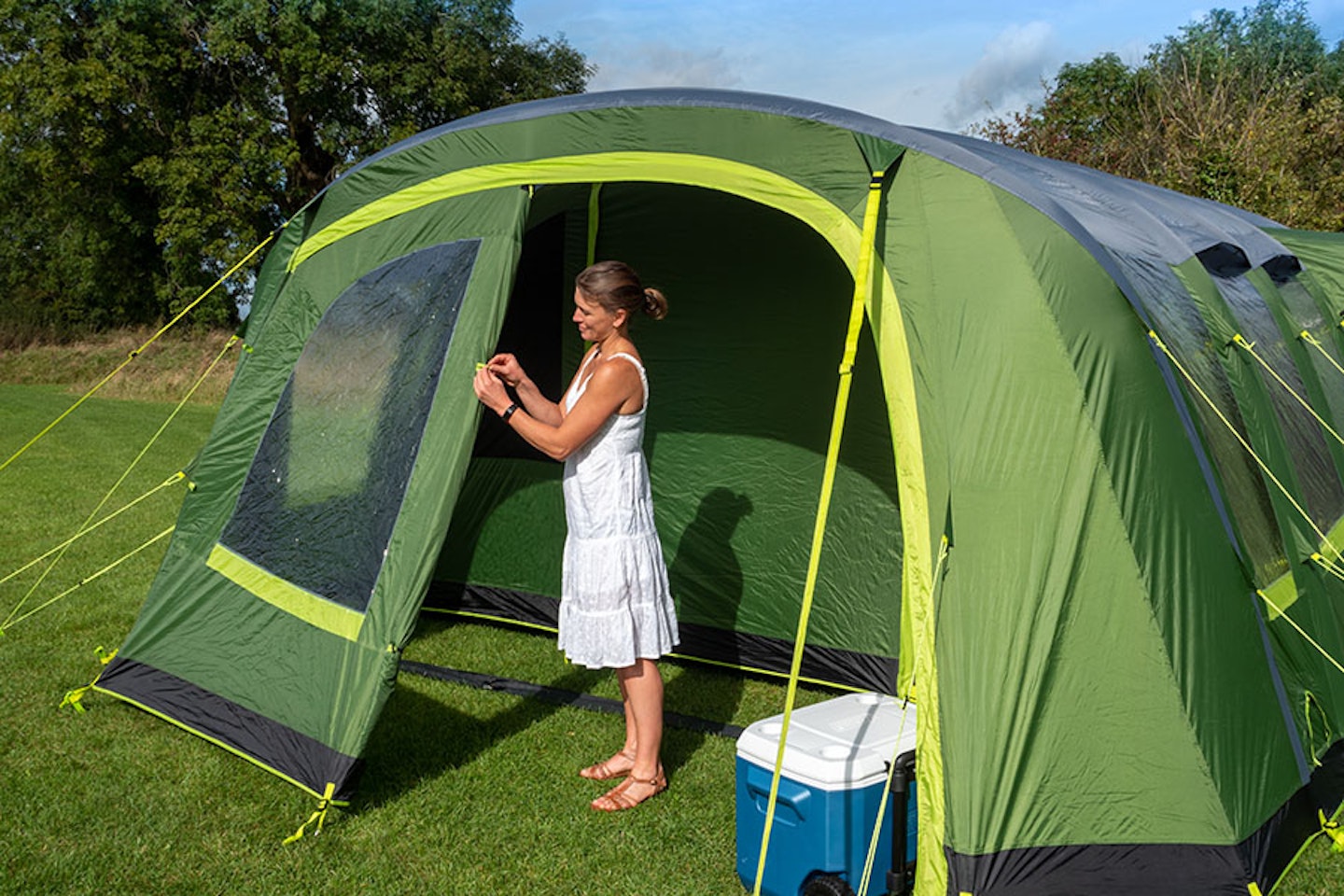 Coleman Weathermaster 8XL Air BlackOut Tent specs
Price £1449.99 | Capacity 8 person | Set up inflatable | Structure tunnel | Poles air | Groundsheet PE, welded, fully integrated, with rainskirts | Outer fabric polyester PU coated/fire retardant | Inner fabric breathable polyester, polyester PU coated, no-see-um mesh | Seams taped | Carry bag wheeled bag | Pack size 78 x 58 x 63 cm | Weight 44.4 kg | Waterproof rating 4500mm hydrostatic head | Total area 32 m2 (Sleeping 12 m2, Living 13 m2, Porch 7 m2) | Other sizes 4XL, 6XL
Trail verdict
For families or groups of friends who enjoy camping with all the comfort, the Coleman Weathermaster 8XL Air BlackOut Tent offers all the features you need - including some you'll never have realised you want until you have them!

Need even more space? Get yourself a Coleman Event Shelter Performance!
The Event Shelter Performance is a complete shelter set, including one event shelter, three sunwalls and one sunwall with door, all within one handy wheeled carry bag.
The shelter shares the same colour palette as Coleman's Weathermaster range of tents, so that your additional undercover space can coordinate perfectly. However, it will look great accompanying any campsite or caravan set-up, or in the garden.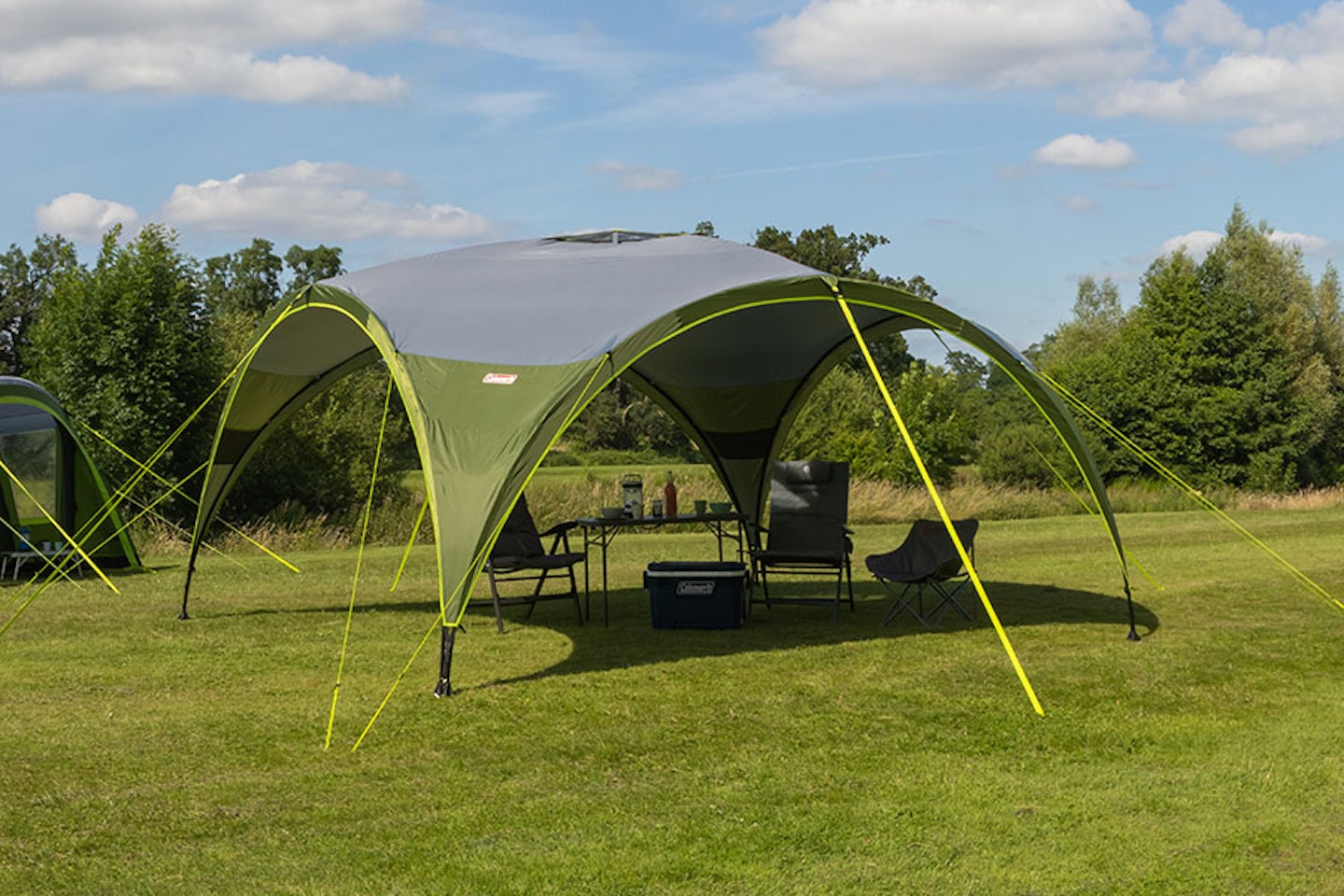 Protection against the elements is a priority. With a steel-poled structure and an aerodynamic, durable design, this is built to last. The polyester flysheet has a 3,000mm hydrostatic head and taped seams to protect against the rain. The flysheet also features a silver lining to reduce the temperature under the shelter on a hot day and UVGuard provides SPF50 sun and UV protection for peace of mind.
The well-thought-out design of the roof ventilation prevents the structure from lifting in gusts of wind and the use of storm straps and multiple guying points ensures that it can be securely pegged into the ground. The roof ventilation also includes clear windows, allowing in light even when all four sunwalls are attached and zipped up. Easy and quick to attach, the sunwalls and sunwall with door further enhance the shelters' weather protection.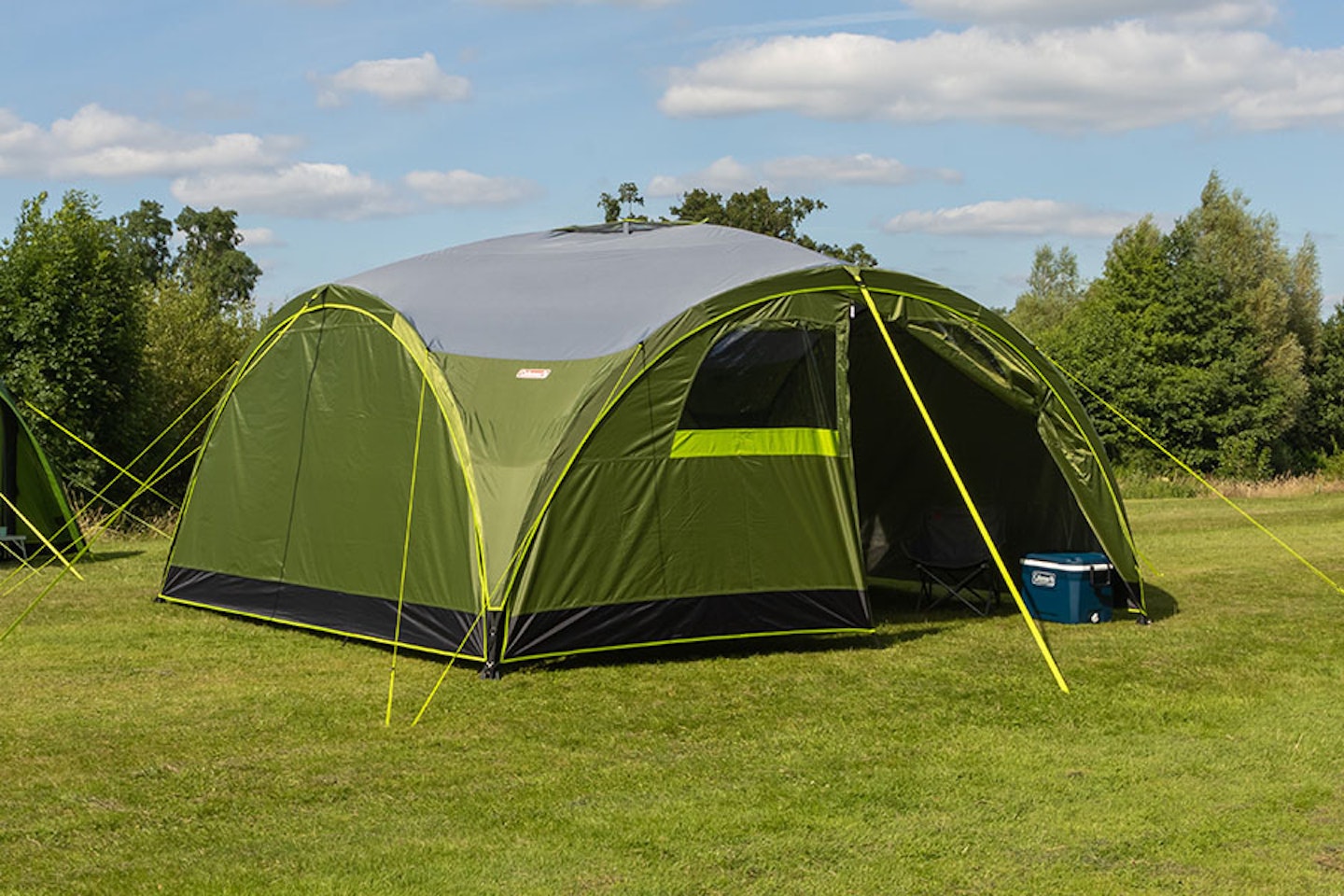 The Event Shelter Performance**** is available in 3 sizes, the M (RRP: £299.99) 3 x 3 metres, the L (RRP: £349.99), 3.65 x 3.65 metres and the XL (RRP: £399.99) which is 4.5 x 4.5 metres.

Don't forget to subscribe to the Live For The Outdoors newsletter to get expert advice and outdoor inspiration delivered to your inbox!
For the latest reviews - including extra photos and kit that won't appear online - pick up a copy of the current issue of Trail magazine!